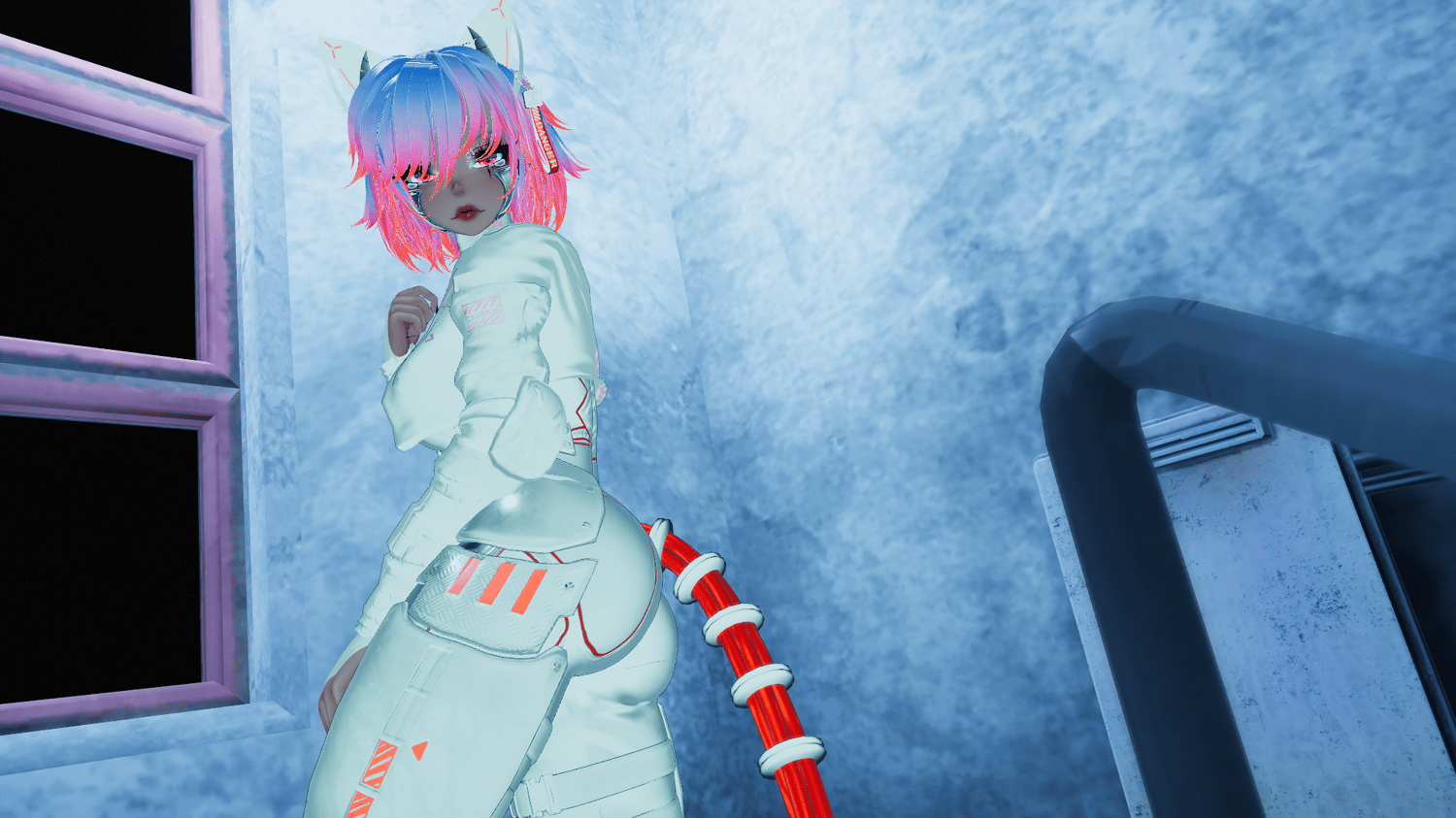 " Vespera " --- 3.0 VR Model + SPS/GOGO
✧ " Vespera " 3.0 VR Model ✦
remember you can get all my models at their original price @ http://illumes.store
---

works great in fbt, fantastic for dancing or relaxing.
toggles for: neck piece, bodysuit, jacket, bra piece, hip pieces, thigh pieces, low leg pieces, panties, pasties, ears, horns, face plate, arm wires, gloves, tail, mecha paws, heels or bare feet.
ribbons perfect for dancing or fidgeting with!
default long hair, short shaggy hair or updo.
black to white toggle for entire outfit.
hair color radial ( default, black, white, red - hueshift )
hue shift to change static colors.
RGB mode on radial to change the speed.
skin radial for different tones.
toggle to turn off expression particles, toggle for fangs.
audiolink on parts of the avatar! ( emission details on the armor, bodysuit line, jacket hexagons, ears )
contacts: headpat (smile, eyes close ), eyes close when poke, boop ( swirly eyes, mouth open, surprised eyebrows )
vrcfury gogoloco option & sps version.
---

VERY POOR: 43 MB DL, 182 Tex Memory, 279k Polys, 23 Meshes, 38 Mats ( decreased easily if you remove the particles ), 22 Phys Components, 246 transforms, 582 collision
---

hair textures, default hair: krinuts ( https://krinuts.sellfy.store/ )
ears, tail, pastie texture: Doujiiru ( https://payhip.com/Doujiiru )
short hair: ( https://saikura.gumroad.com/ )
body: zinpia ( https://zinpia.sellfy.store/ )
head: sleepyvrc ( https://sincerelysleepy.com/sl )
base body tex: yingyangvr ( https://yingyangvr.gumroad.com )
body tattoo: ghostxo ( https://www.ghostxovrc.shop/ )
icons: Maddiiee#7341 ( https://maddiiee.gumroad.com/ )
eye textures: ryuohh ( https://ryuohh.gumroad.com/ )
expression particles: ( kisustar ( https://kisustar.gumroad.com/ )
ribbons: funsizedata ( https://funsizedata.gumroad.com/ )
paw feet mesh: thethiccwitch ( https://payhip.com/TheThiccWitch )
short hair, face texture, pastie mesh, panties, heels, thigh high armor, leg armor, hip armor, bra piece, jacket, wires, arm pieces, neck piece, paw feet reuved and textures, face plates and horns by me, illumevr.
toggles using vrc av3 creator by rafa here.
templates by justsleightly.
USED POI PRO 9 ( UV TILE DISCARD IS USED TO HELP REDUCE CLIPPING ) & CREATOR COMPANION. VRCFURY IS A FREE ADD-ON THAT IS NEEDED TO USE THE SPS OR GOGOLOCO VERSIONS. THERE IS A NON-VRC FURY PACKAGE INCLUDED AS WELL.
---

full tos can be found here: https://illumes.store/terms-of-service
by purchasing ANYTHING from my shop you agree to the terms linked above.
if you have any issues, please check my faq here & then contact me after.