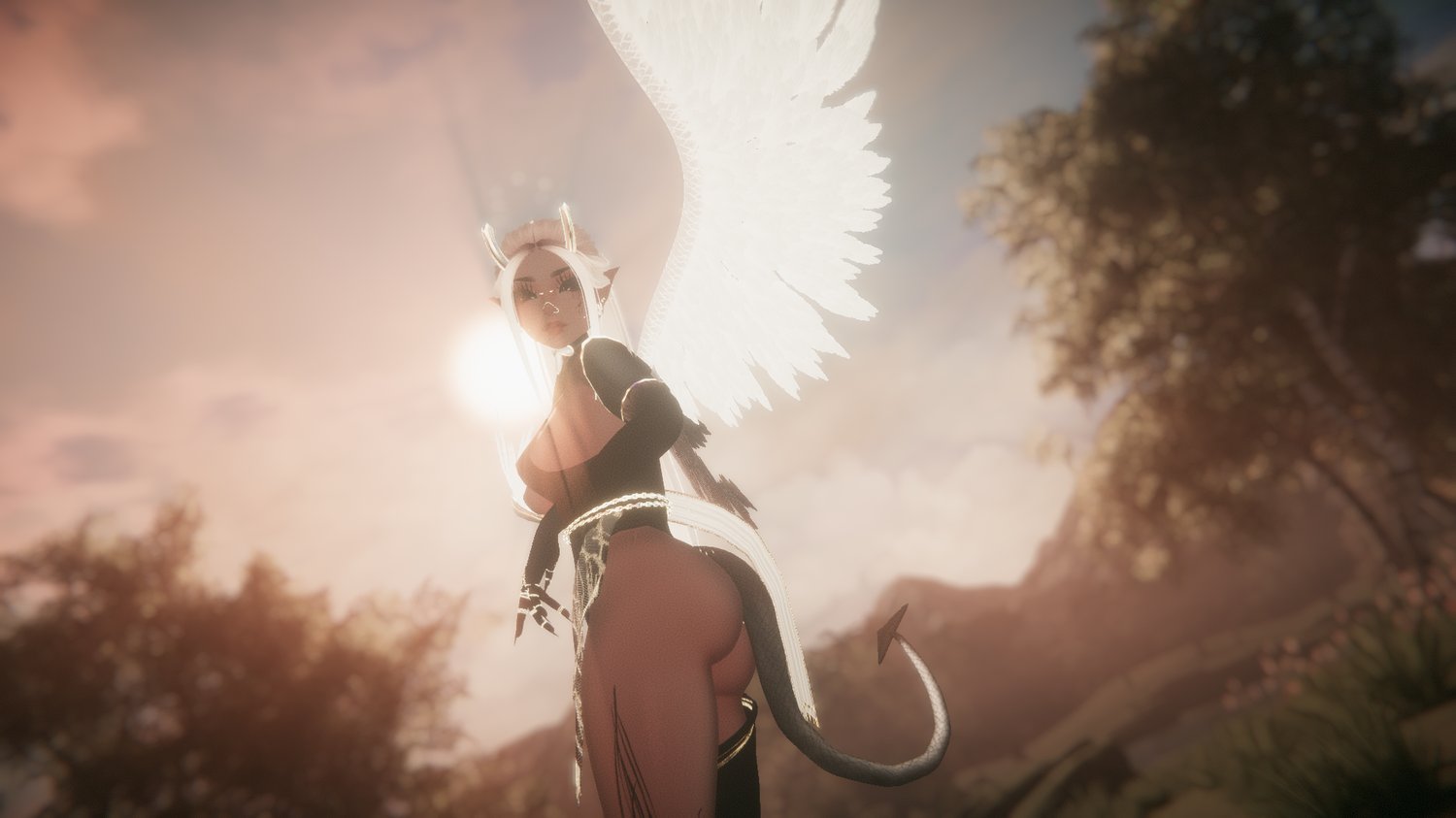 " RE: Rise " VR Avatar + TPS & OPTI
---
works great in full body! perfect for dancing or relaxing. ♡
dissolve toggles for anklet, arm sleeves, bodysuit, claw, gloves, pearl top, pearl bottoms, heels, panties, pasties, thigh highs & halo. - hair swap from ponytail to wavy over the shoulder.
corrupted version ( halo turns to horns, wing rips, tail toggles on, skin tex change )
wings can be toggled off, changed from ripped to full & vice versa, when wings are turned off, wing tattoos on back are turned on.
small to large butt & small to large chest slider.
eye hue & saturation change.
hair hue, saturation, emission & brightness change.
skintone radial shift.
hand particles & full body smoke toggle.
preset outfits for pearl outfit / pasties / panties, default & all off.
phys bones in both hairs, tail, veil, chest, butt, all fabric & halo.
colliders where applicable.
optimized ( green ) version that fits vrchat's new standards.
---
red --- very poor
➜ 21MB DL / 80 MB texture memory
➜ 252k polys
➜ 19 skinned mesh renders
➜ 45 material slots
➜ 12 physbone components
➜ 115 transforms
➜ 179 collisions
➜ 8 lights ( TPS VER ONLY )
green --- good
➜ 7MB DL / 38.80 MB texture memory
➜ 69, 127 polys
➜ 1 skinned mesh renders
➜ 8 material slots
➜ 2 physbone components
➜ 41 transforms
THIS AVATAR REQUIRES POIYOMI PRO FOR TPS TO WORK PROPERLY.
---
body: sugs#9795
hairs, head: nessy!#7402
heels: Nauuki#5353
rings, pearl outfit: Eggly69#6969
hair textures: wetcat#6969
icons: awmi#6003
body tex: ying#6699
eye texs: ryuohh#0001
pasties: ђ๏ɭɭy#4868
panties: Zeit#9150
hand particles: xxuebi 
claw: Neona #0107
toggle dissolves using vrc av3 creator by rafa here.
---
please have knowledge of unity when purchasing, this is a package you have to upload yourself. ♡