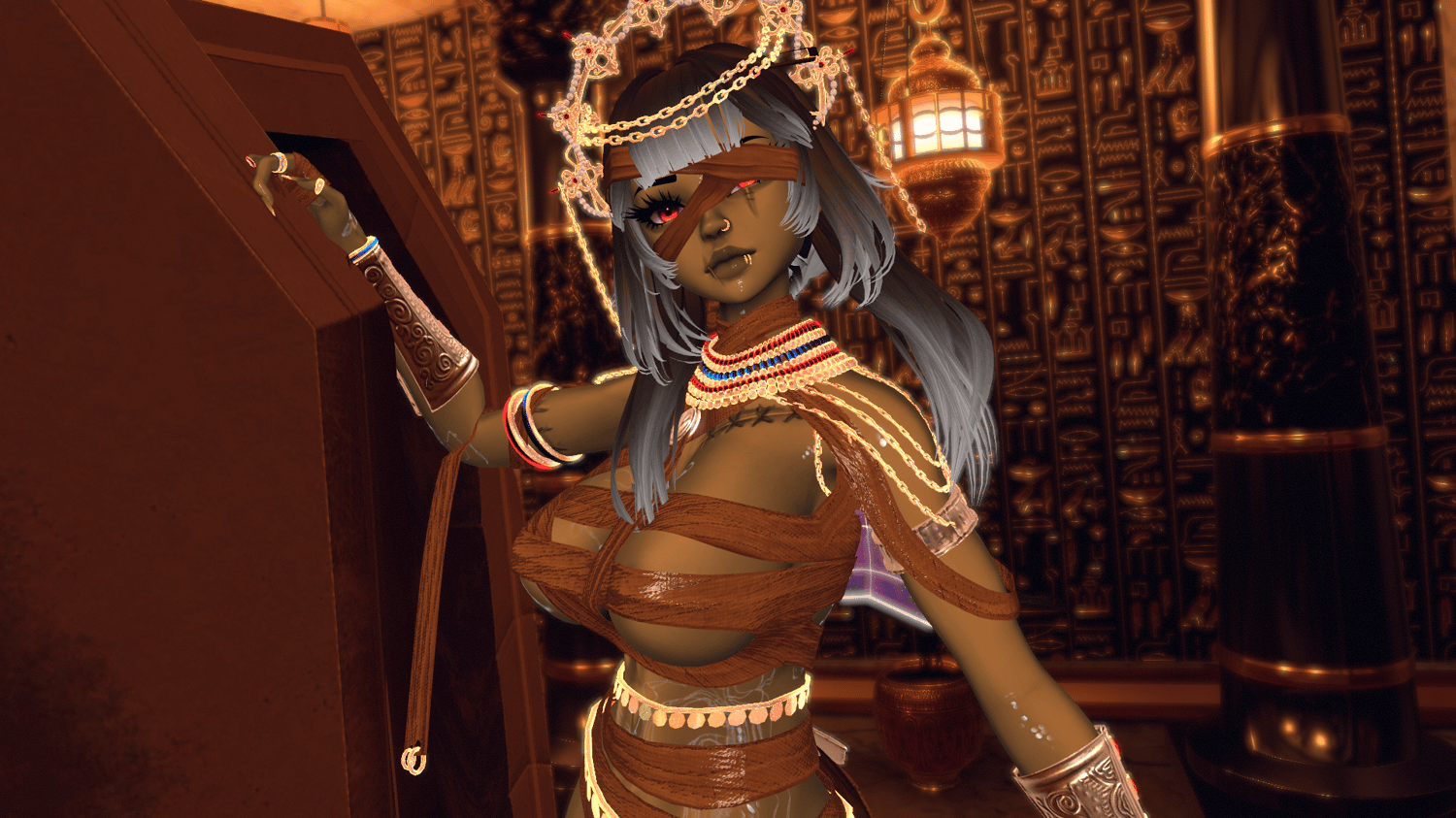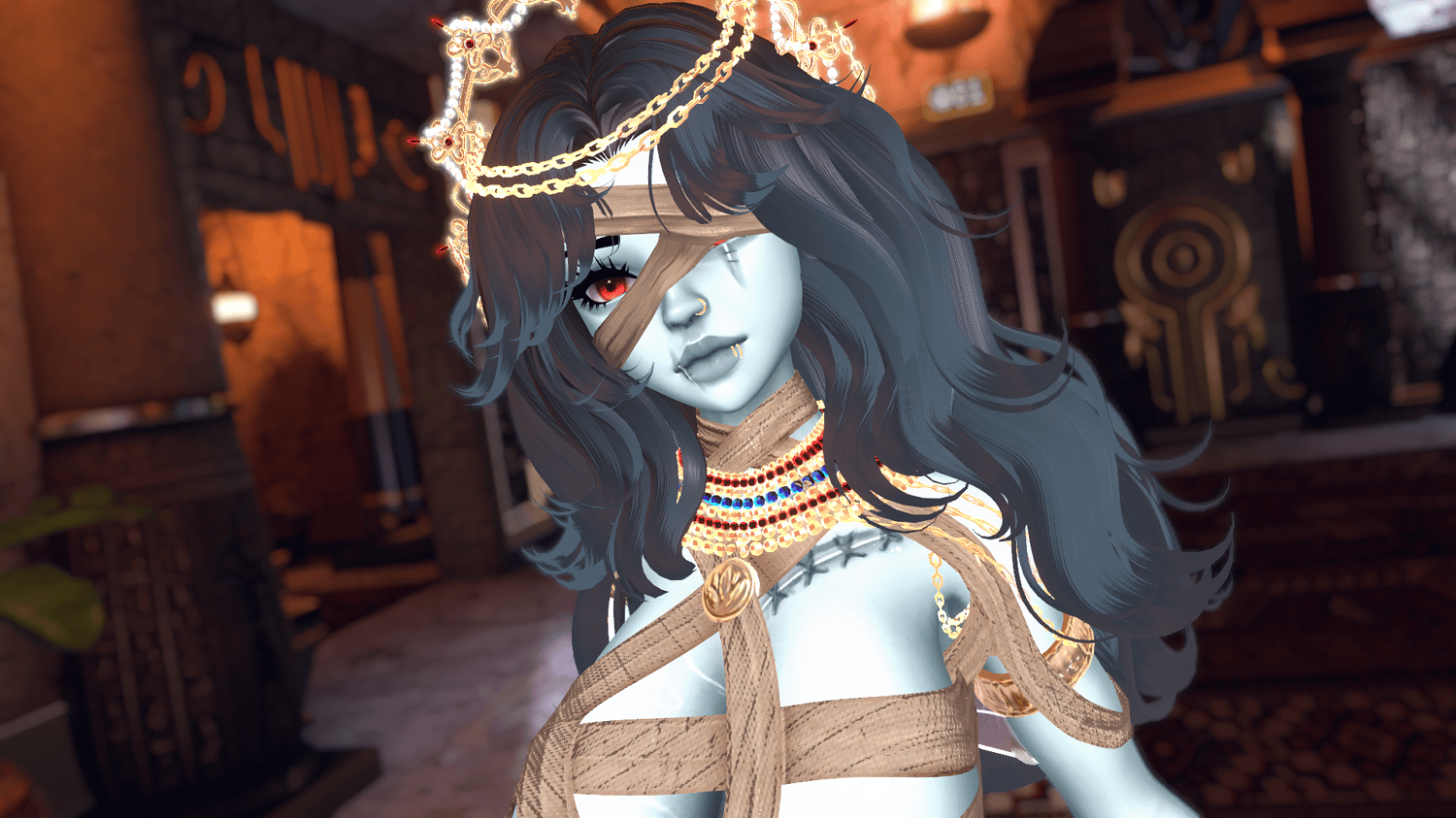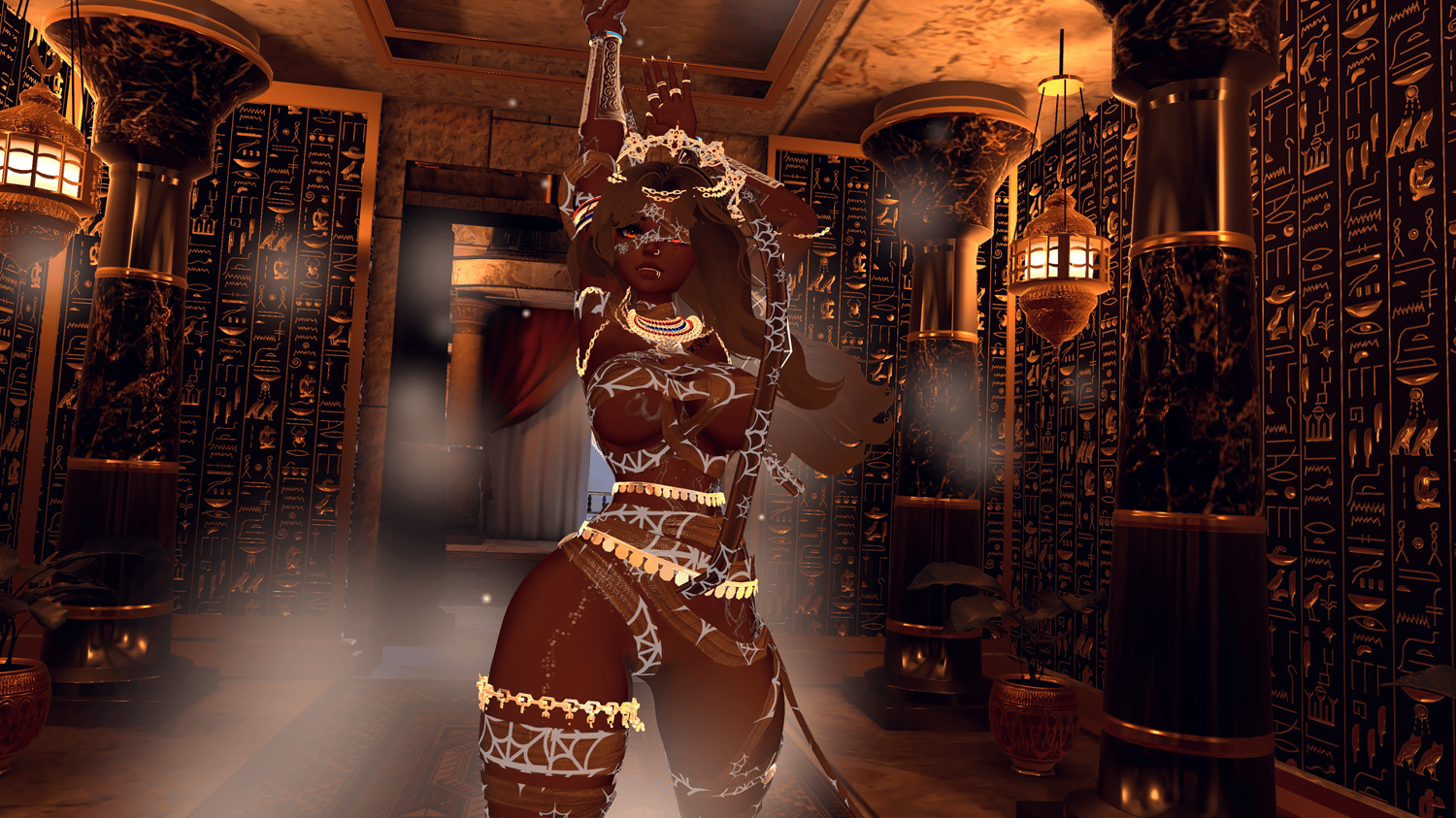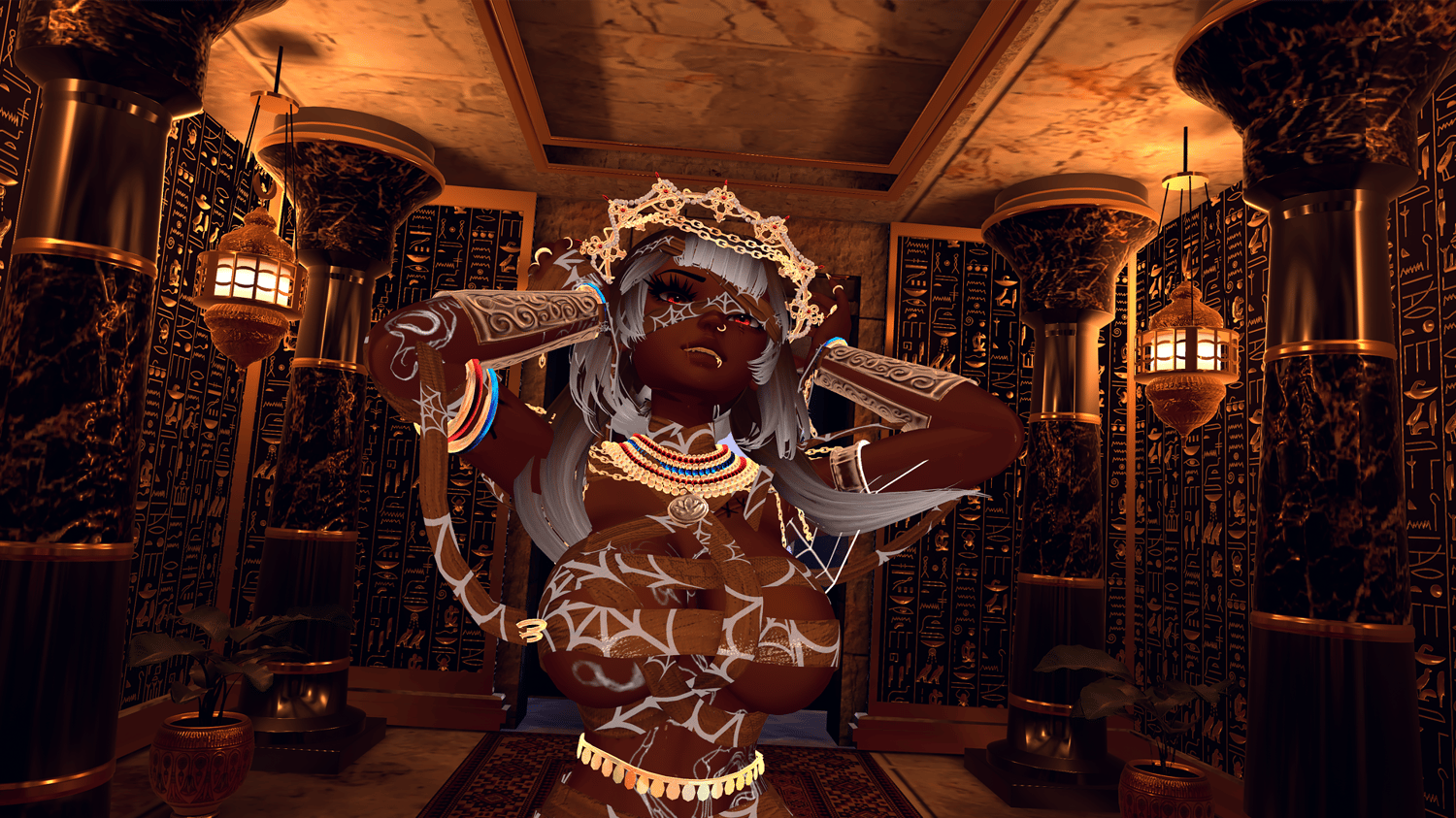 " RE: Dommy Mummy " 3.0 VR Model + SPS/GOGO
✧ " RE: Dommy Mummy " 3.0 VR Model ✦
IF YOU PURCHASED THE OG, CHECK YOUR EMAIL OR GUMROAD LIBRARY FOR A DISCOUNT.
---

works great in fbt, fantastic for dancing or relaxing.
customization options for skin hue ( + human tones ), hair colors.
hairswap into a braided bun with spiders, floofy hair or default hair.
glow in the dark toggle that turns scaling spider webs across all the wraps.
toggles for crown, necklace, face wrap, cuffs, wrist straps, web, arm straps, top straps, bra, panties, pussy strap, hip straps, leg straps & back straps.
chest & butt radials to change size.
face wrap slides to blindfold.
toggles to slide chest & bottom wraps.
toggle for elf ears / normal ears.
world drop coffin, toggle to drop & open it.
spider web fan toggle with spider emissives.
sand particle toggle.
expressions have particles, toggleable.
contacts for eye pokes ( eyes close ), headpat ( stars ) & right ass slap ( cheek print )
phys bones in both hairs, tail, chest, butt, bag, tooth necklace, arm bandana, cape & earrings.
gogo loco & SPS versions in the VRCFury version of the package!
---

VERY POOR VER: 51MB DL, 148 Tex Memory, 352k Polys, 21 Meshes, 59 Mats ( reduce by taking off particles ), 26 Phys Components, 432 transforms, 1k collision
---

hair textures: nikkie ( https://nikkiepng.com )
body, head: zinpia ( https://zinpia.sellfy.store/ )
base body tex: yingyangvr ( https://yingyangvr.gumroad.com )
icons: Maddiiee#7341 ( https://maddiiee.gumroad.com/ )
face tex & eyes: sivka.( https://23mink.gumroad.com/ )
fluffy hair: nessyy. ( https://payhip.com/nessyvr )
headpat particles: kisustar ( https://kisustar.gumroad.com/ )
world constraint: ( https://vrlabs.dev )
fans: naudine ( https://payhip.com/Naudine )
both other hairs, skin edits, blindfold, cuffs, jewelry, arm wraps, back wraps, tiddy wraps, pussy strap, leg wraps, heels, panties, bra, crown, accessories, sand particles, coffin by me, illumevr.
toggles using vrc av3 creator by rafa here.
templates by justsleightly.
USED POI PRO 9 & CREATOR COMPANION. VRCFURY IS A FREE ADD-ON THAT IS NEEDED TO USE THE SPS OR GOGOLOCO VERSIONS. THERE IS A NON-VRC FURY PACKAGE INCLUDED AS WELL.
---

full tos can be found here: https://illumes.store/terms-of-service
by purchasing ANYTHING from my shop you agree to the terms linked above.
if you have any issues, please check my faq here & then contact me after.