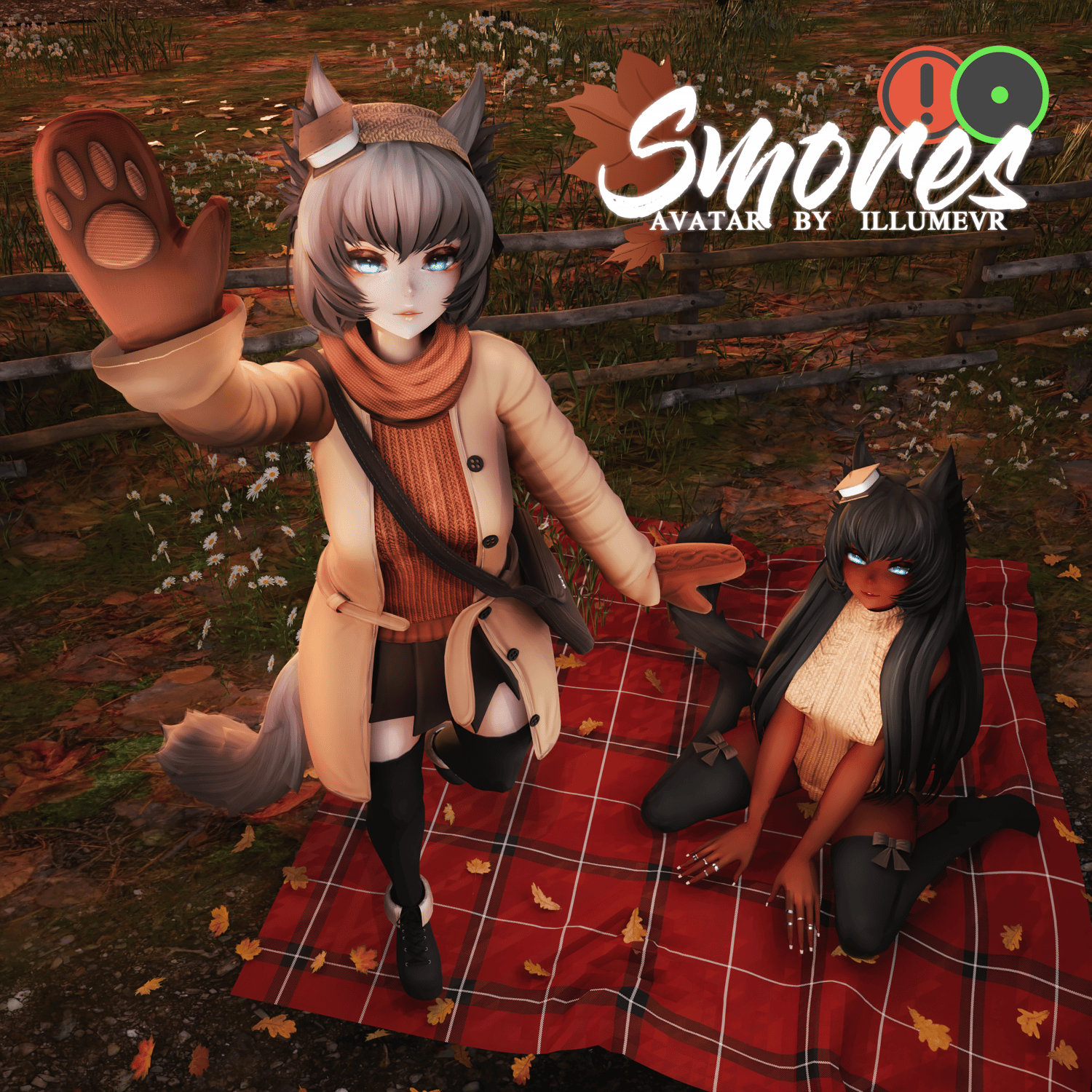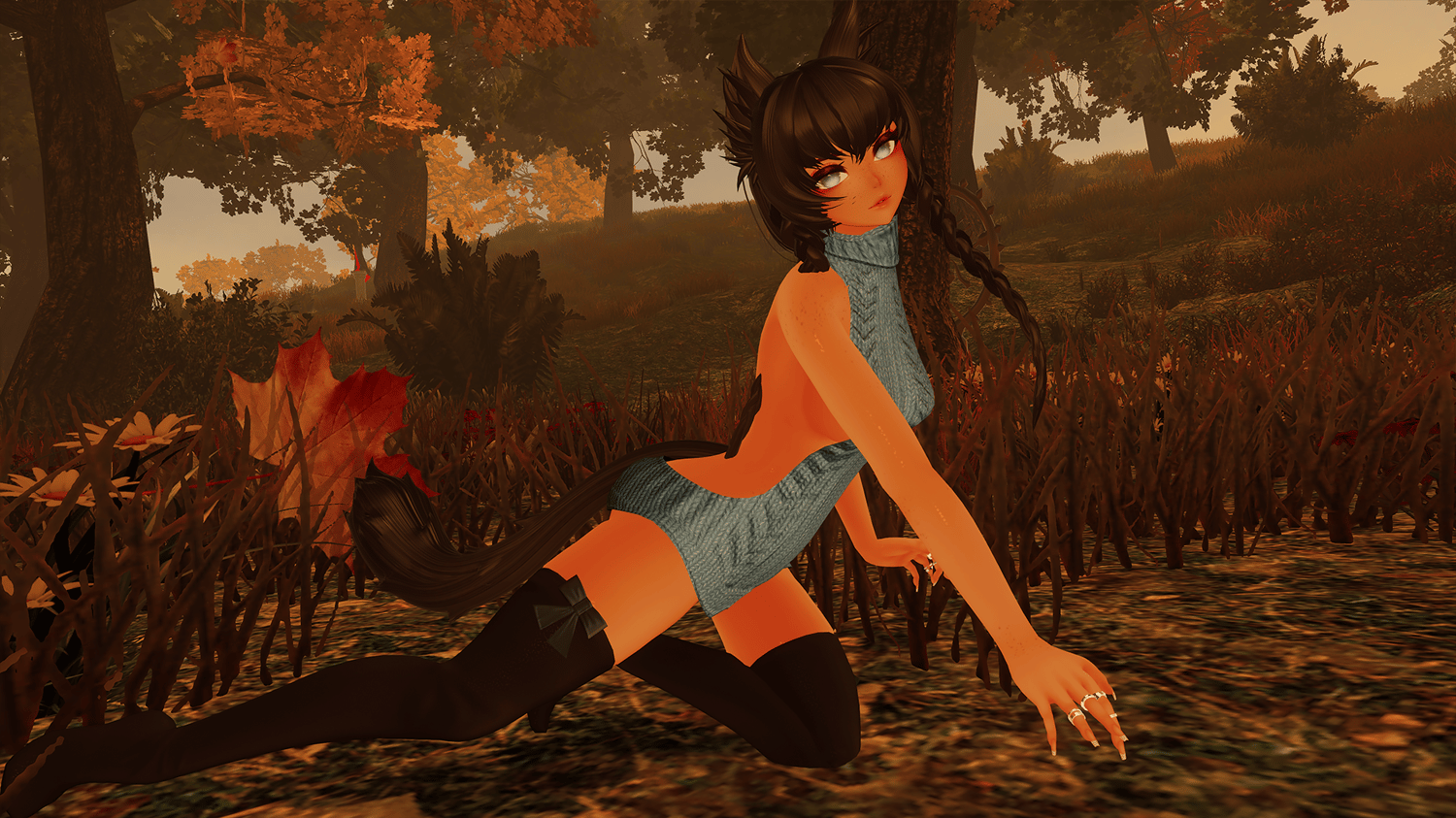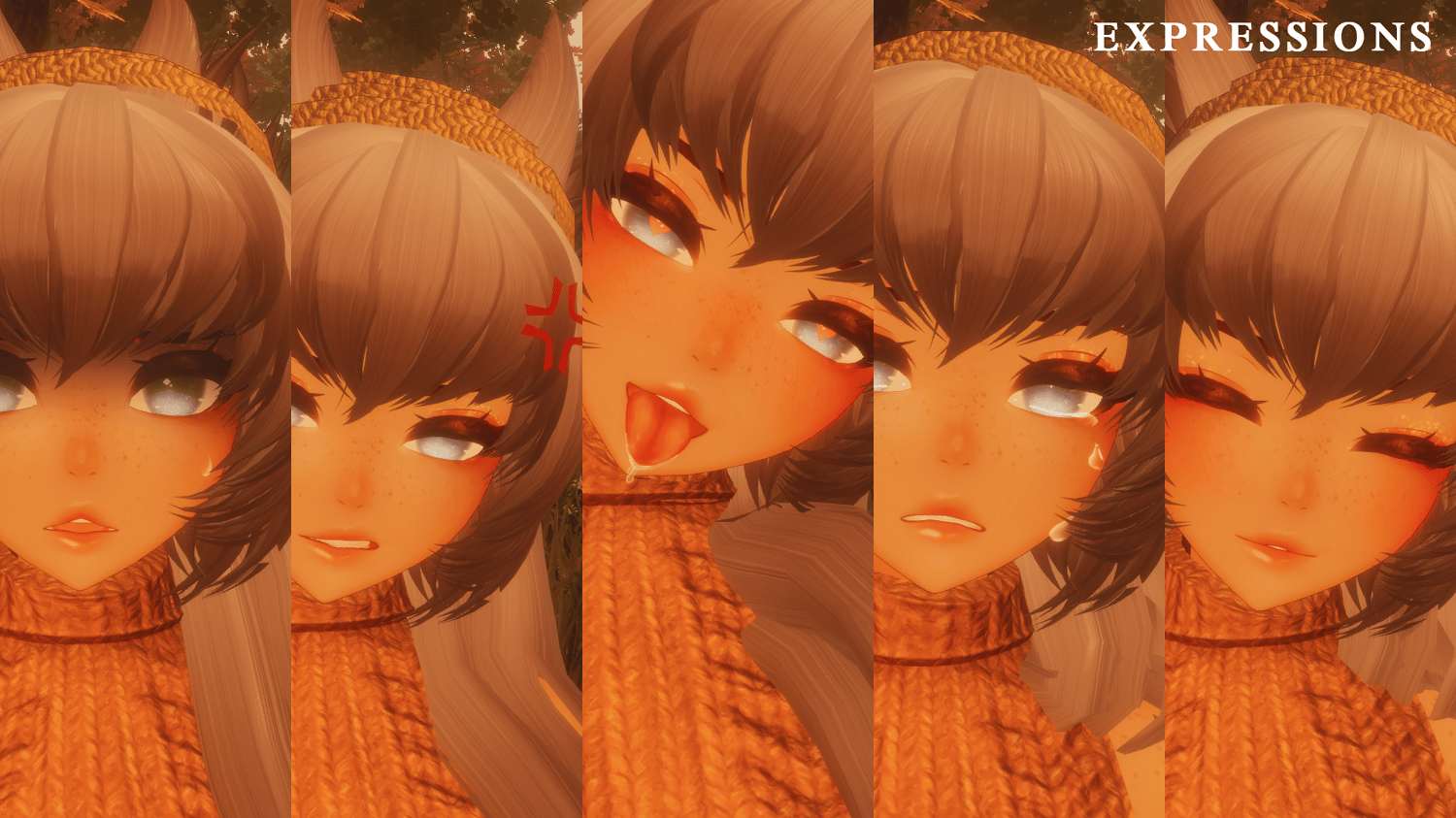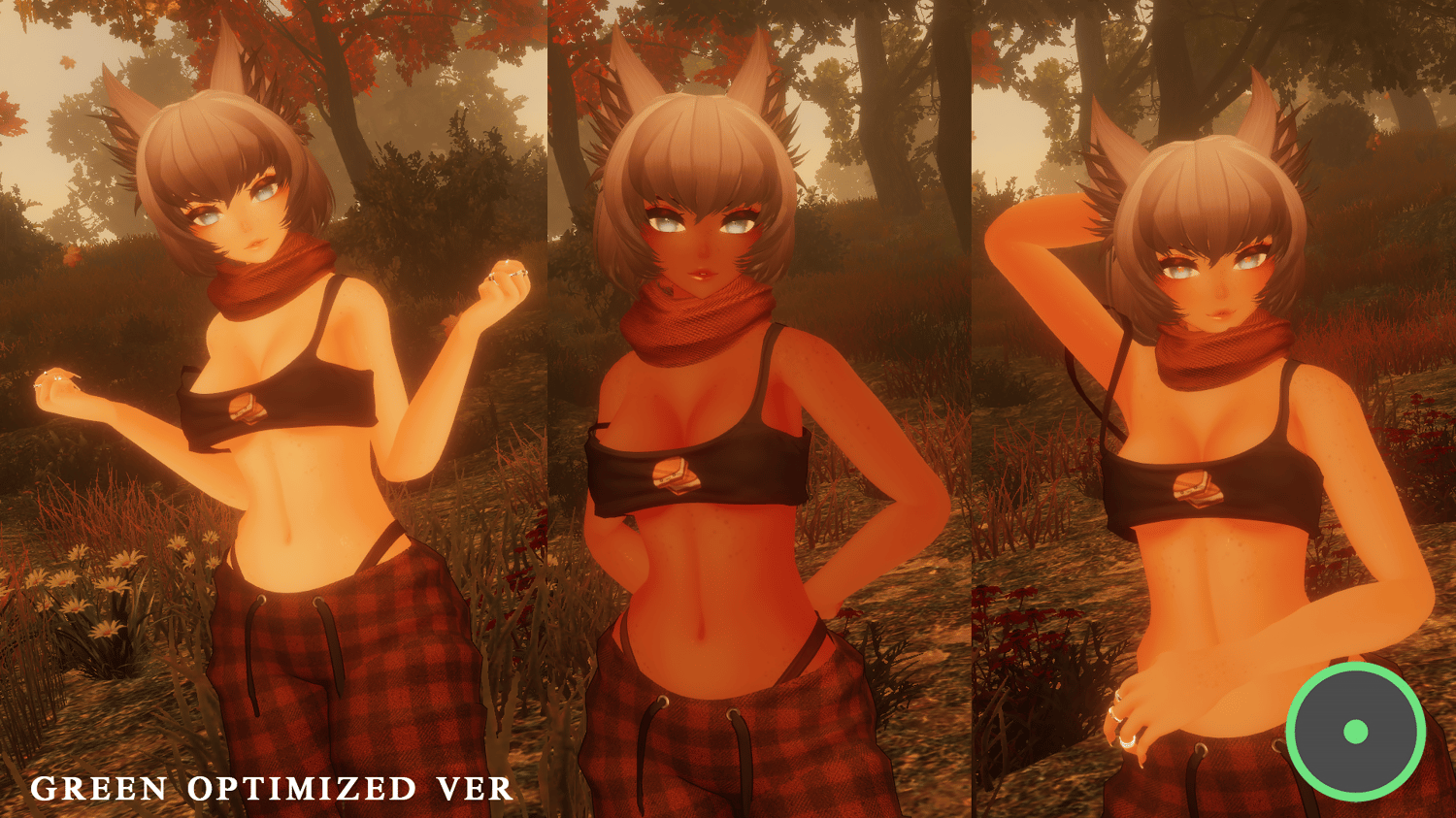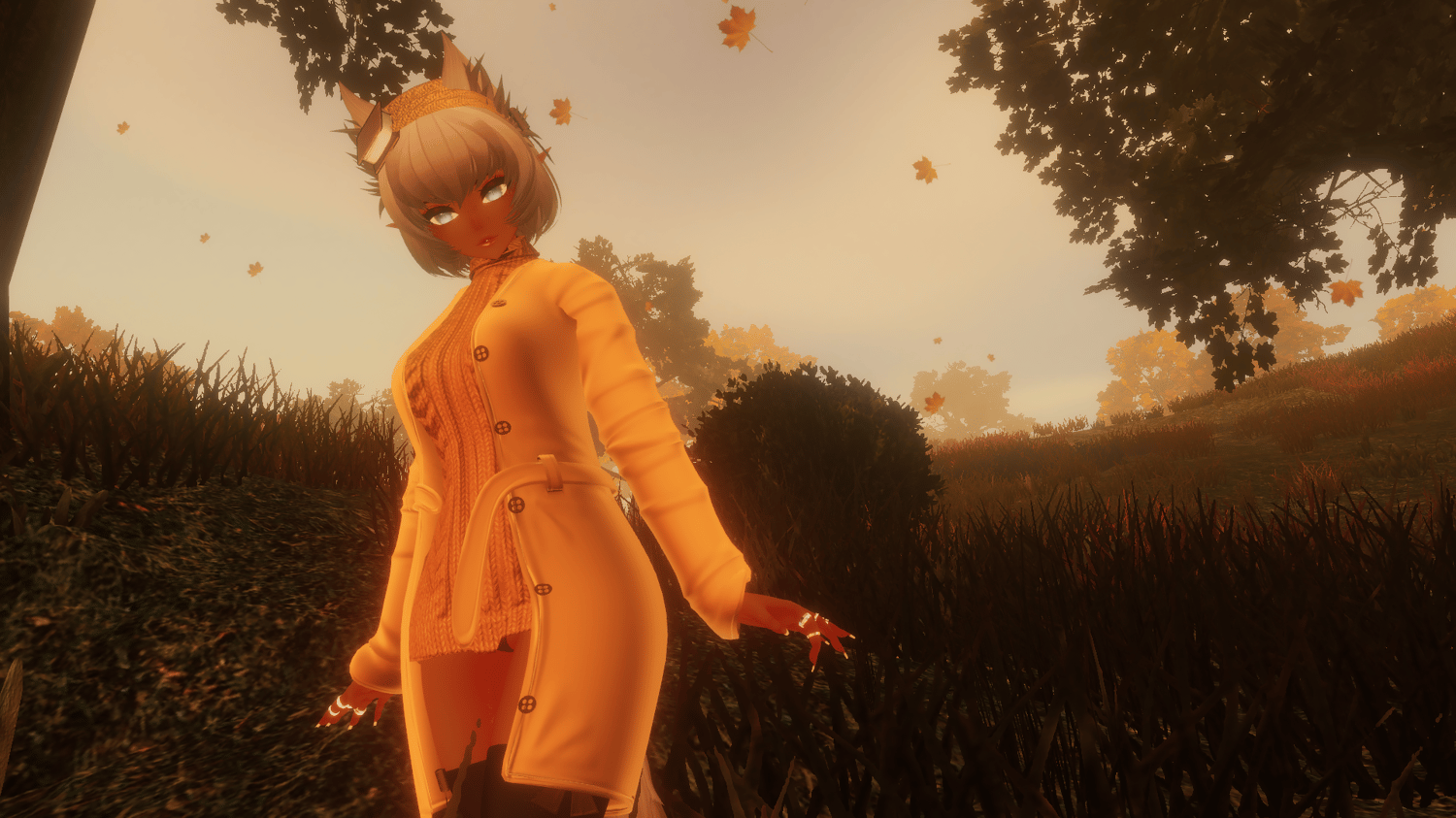 " Smores " --- 3.0 VR Model + SPS/GOGO + OPTI
✧ " SMORES THE COMFY KITTY " 3.0 VR Model ✦
---

works great in fbt, fantastic for dancing or relaxing.
four preset outfit toggles ( virgin killer sweater outfit, default, pj outfit & nothing )
toggles for: jacket, sweater, skirt, virgin killer, panties, pj top, pj bottom, thigh highs, heels, paw slippers, hat, bag, scarf, mittens, smore head piece, ears, tail, whiskers, elf ears.
hair options are short default, short with braids, long.
pupil size radial, pupil toggle, eye hue shift.
fire follower with bouncing walk & idle sway.
paw print particles that follow feet, falling autumn leaf particles.
idle animation for ears / tail twitch.
hair color radial ( default, black, white, red - hueshift )
pj shirt has different designs ( paw print, smores, leaves, pumpkin, blank )
hue shift on the majority of outfits ( jacket, pj pants, hat, virgin killer, etc )
skin radial for different tones.
panties tex for ' eat me ' or plain version, toggle to turn s kirt / panties black.
contacts: headpat ( blush, heart eyes, smile ), eyes close when poke, boop ( swirly eyes, mouth open, surprised eyebrows )
vrcfury gogoloco option & sps version.
opti version has pj shirt radial, hue radial, skin radial, idle anim for ears, elf ears, pupil size radial & pupil off toggle.
---

VERY POOR: 58MB DL, 151 Tex Memory, 266k Polys, 25 Meshes, 36 Mats, 25 Phys Components, 184 transforms, 570 collision
GOOD OPTIMIZED: 25MB DL, 58 tex memory, 69k polys, 8 mats, 53 transforms, 8 components
---

hair textures: nikkie ( https://nikkiepng.com )
cat ears: wetcat ( https://wetcat.gumroad.com )
body: zinpia ( https://zinpia.sellfy.store/ )
head: starlynn ( https://payhip.com/Starlynn3D )
base body tex: yingyangvr ( https://yingyangvr.gumroad.com )
icons: Maddiiee#7341 ( https://maddiiee.gumroad.com/ )
tongue: eggly ( https://payhip.com/Eggly69 )
follower system: hfcred ( https://hfcred.gumroad.com )
paw particles: Fooma ( https://foomaring.gumroad.com/ )
all three hairs, scarf, sweater, skirt, panties, thigh highs, heels, paw slippers, pj shirt, pj pants, hat, bows, smore accessories, tail, rings, fire follower, bag, mittens, leaf particles, shirt designs by me, illumevr.
toggles using vrc av3 creator by rafa here.
templates by justsleightly.
USED POI PRO 9 ( UV TILE DISCARD IS USED TO HELP REDUCE CLIPPING ) & CREATOR COMPANION. VRCFURY IS A FREE ADD-ON THAT IS NEEDED TO USE THE SPS OR GOGOLOCO VERSIONS. THERE IS A NON-VRC FURY PACKAGE INCLUDED AS WELL.
---

full tos can be found here: https://illumes.store/terms-of-service
by purchasing ANYTHING from my shop you agree to the terms linked above.
if you have any issues, please check my faq here & then contact me after.