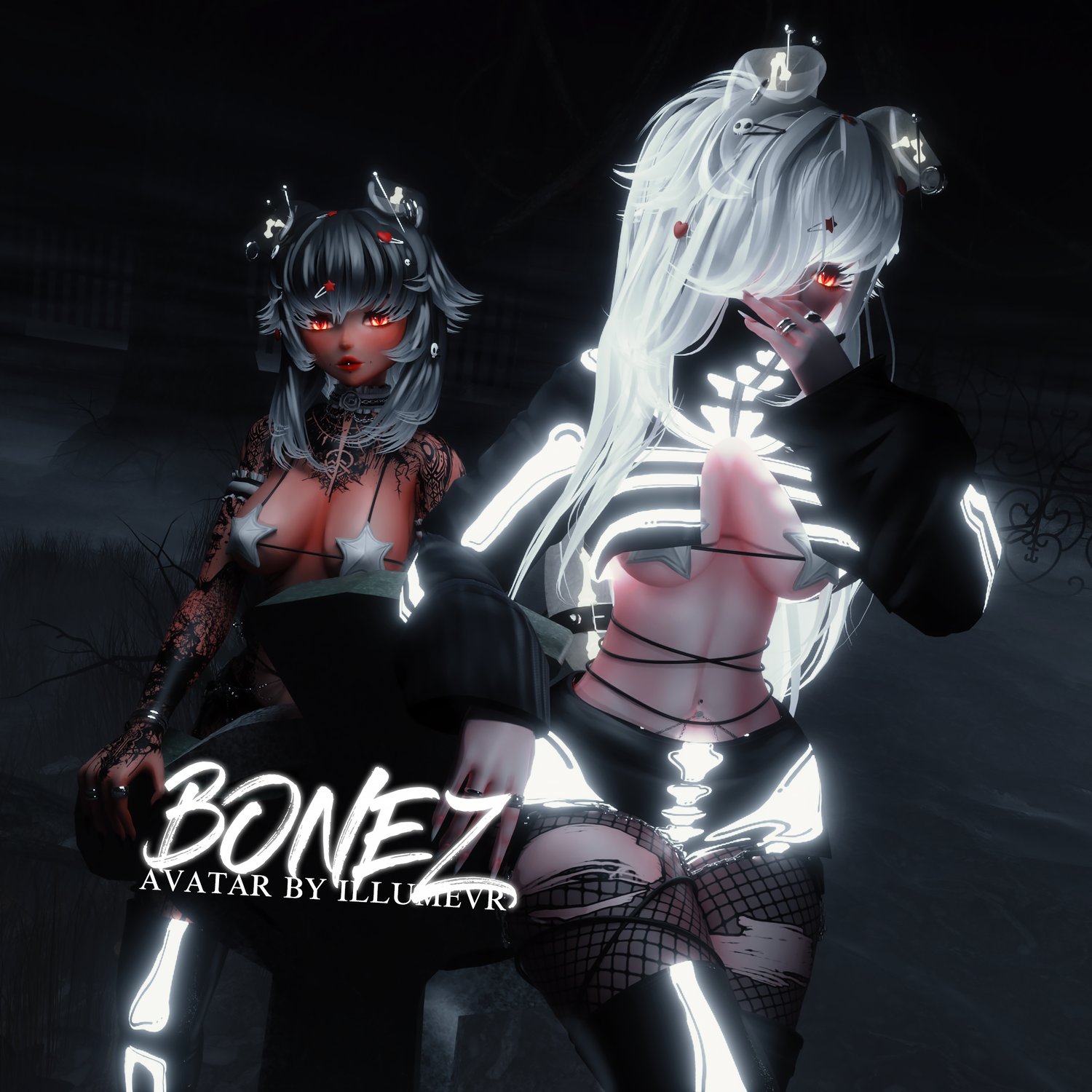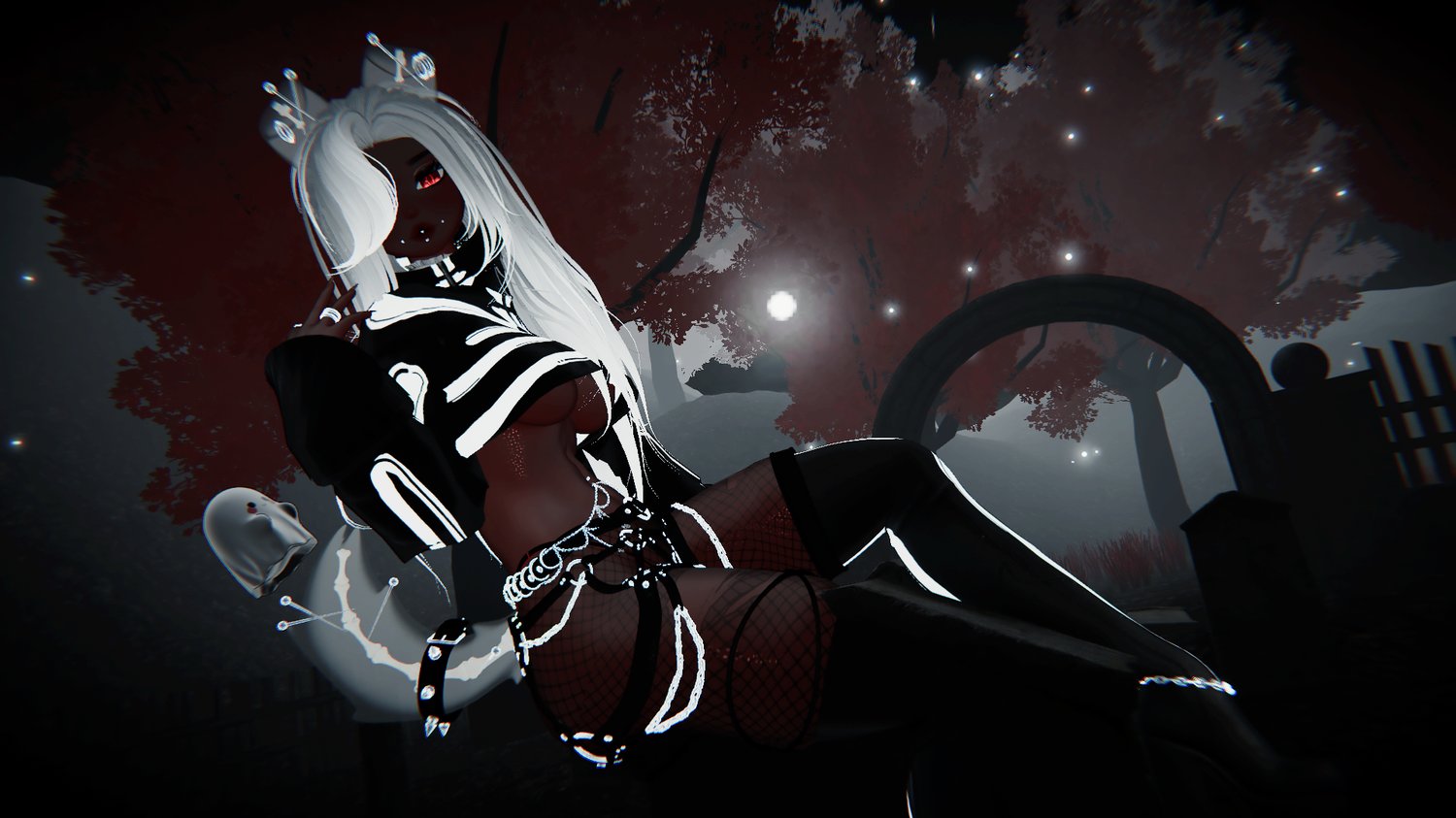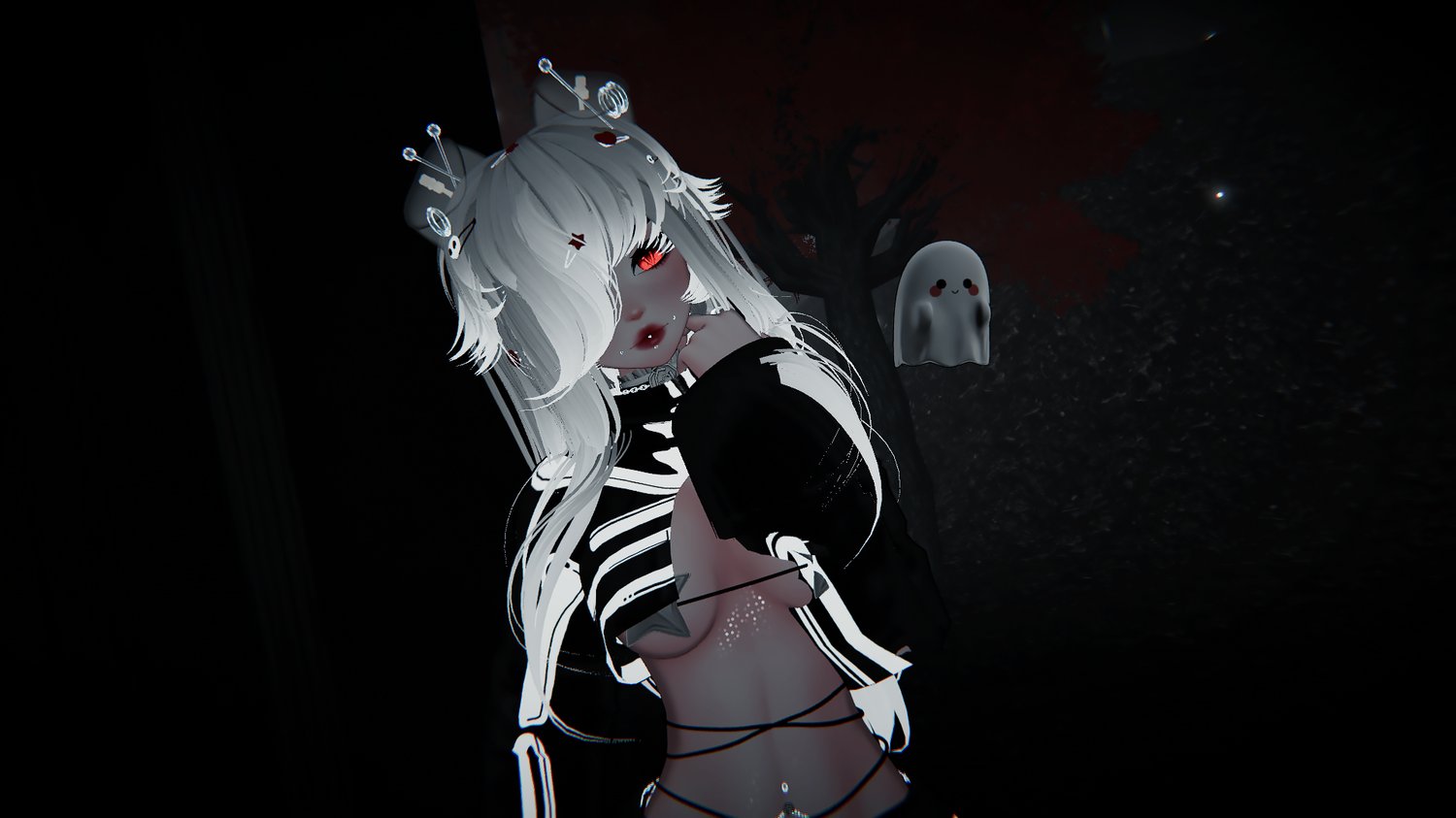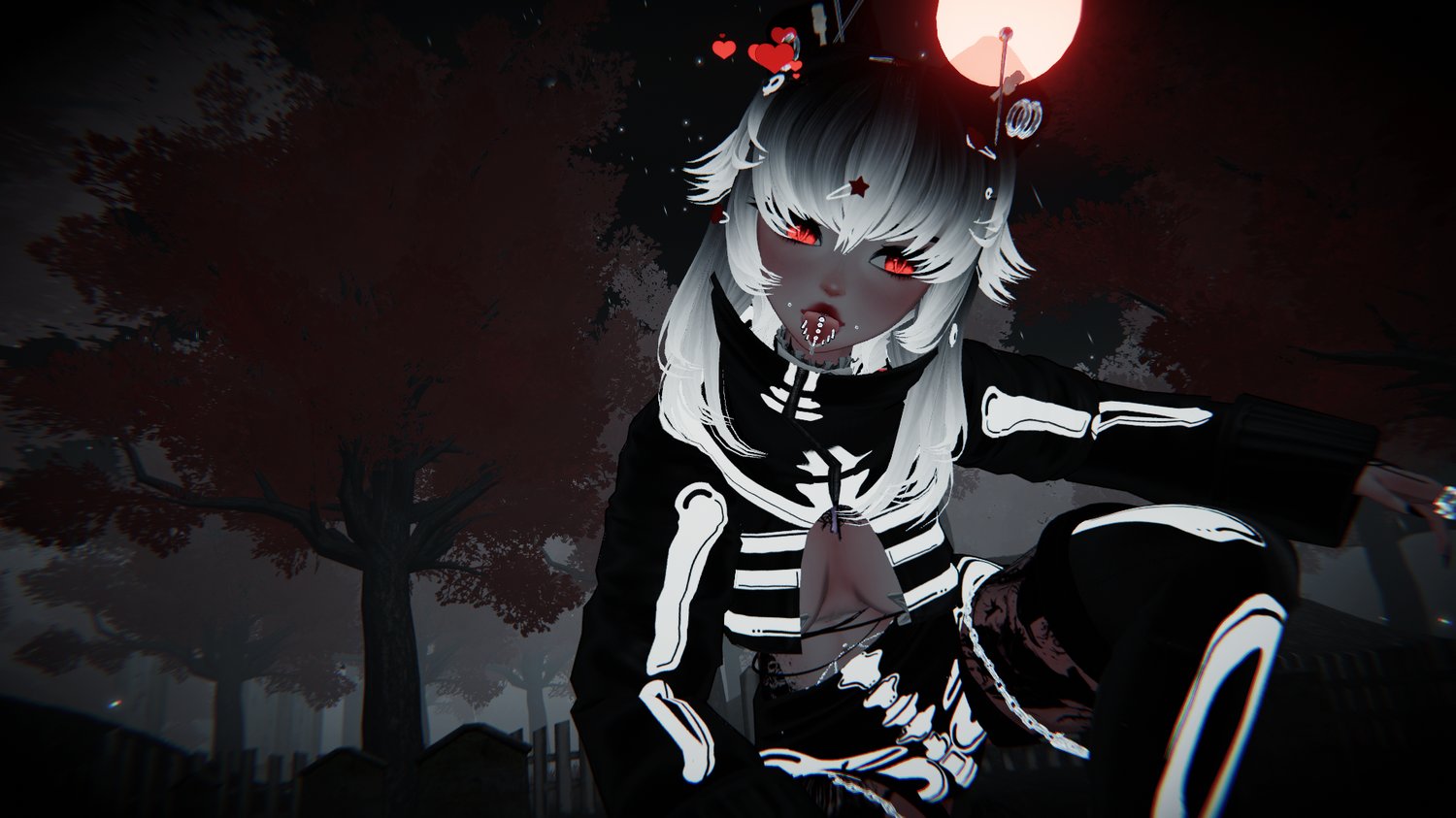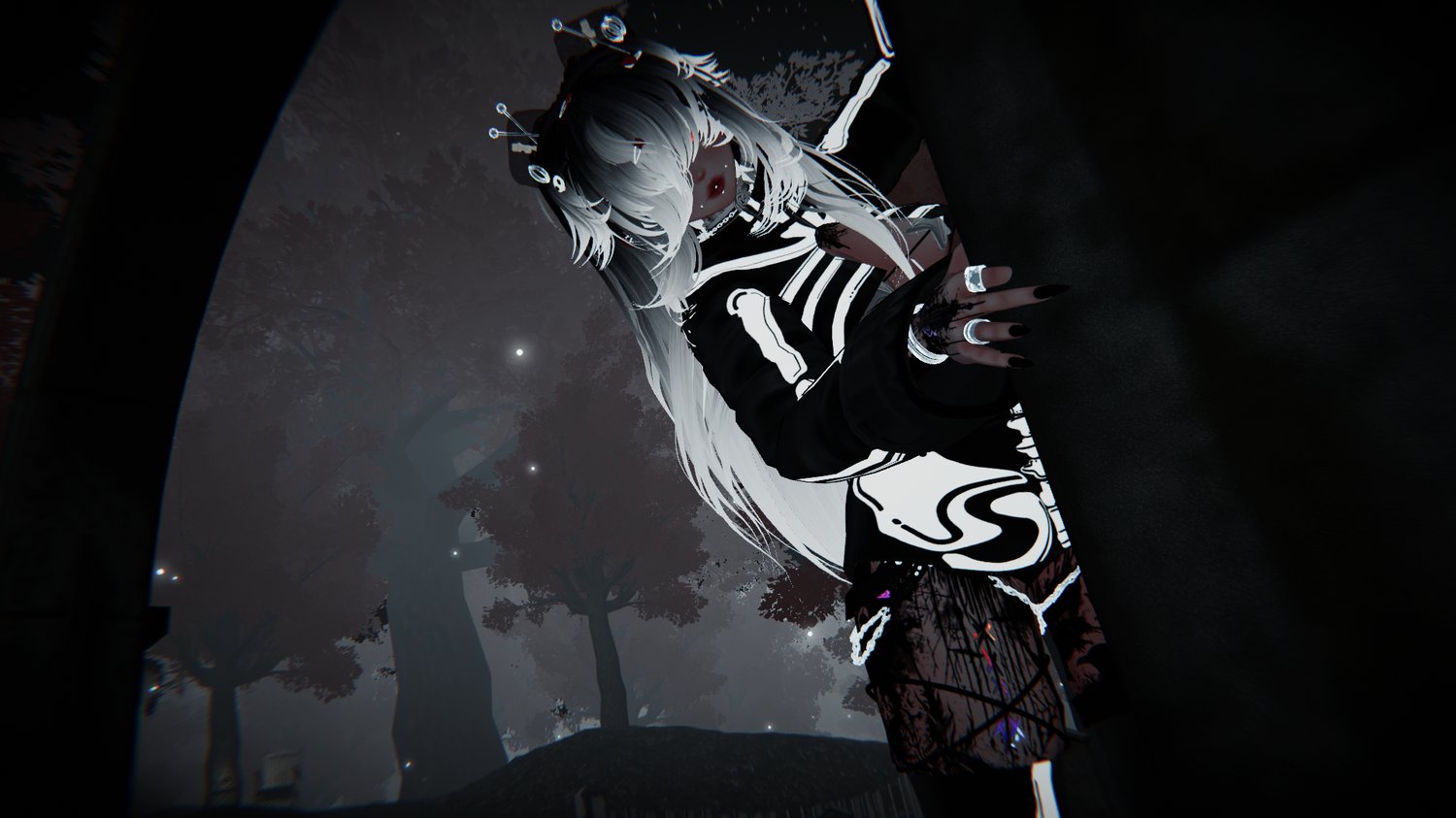 " BONEZ" --- 3.0 VR Model + SPS/GOGO
✧ " BONEZ " 3.0 VR Model ✦
---

works great in fbt, fantastic for dancing or relaxing.
toggleable ghost friend.
jacket mask pull down animation.
toggle for choker, jacket, bra, arm accessories, skirt, panties, heels, ears, tail, hip chain & harness.
swap hair from white to black, changes the ears / tail too.
particles with expressions ( toggleable )
radial to change fishnets to a different kind or off.
default hair is both combined, toggle to just the ponytail or just the short hair.
toggle to bring the bangs down over eyes.
toggle for tattoos, skin shift radial.
radials to change chest & butt size.
contacts for headpat ( heart particles, eyes close, tail wags ), boop ( eyes open, mouth open, ears up, particles ), both eyes can be poked ( close ), tail grab ( cry, puff cheeks )
gogo loco & SPS versions in the VRCFury version of the package!
---

VERY POOR: 43MB DL, 124 Tex Memory, 410k Polys, 16 Meshes, 46 Mats, 10 Phys Components, 188 transforms, 534 collision
---

hair textures: nikkie ( https://nikkiepng.com ), wetcat ( https://wetcat.gumroad.com/ )
head: cicieaaa ( https://cicieaaavr.gumroad.com/l/cicis3 )
body: zinpia ( https://zinpia.sellfy.store/ )
base body & head tex: yingyangvr ( https://yingyangvr.gumroad.com )
boots, undies: nauuki (
icons: Maddiiee#7341 ( https://maddiiee.gumroad.com/ )
arms / choker / hipchain: koragira ( https://koragira.gumroad.com/)
tongue: eggly69 ( https://payhip.com/Eggly69 )
hair pins: moonlight peach#3252 ( https://moonlightpeachh.gumroad.com/)
long hair: nessyy. ( https://nessy.store/ )
eye tex: ryuohh ( https://ko-fi.com/ryuohh/shop )
leg harness: renipuff ( https://payhip.com/renipuff )
fishnet texture: Yukina#2842 ( https://yukina.gumroad.com/ )
tattoos: riggatony ( https://riggatonyvr.gumroad.com/ )
particles: Kisu☆#1000 ( https://kisustar.gumroad.com/)
ears / tail: wen.3d ( https://payhip.com/wen )
short hair, star bra, skirt, jacket top, shoe texture, rings, leg accessory, ghostie friend, base & uv edits were all made by me, illumevr.


toggles using vrc av3 creator by rafa here.
USED POI PRO 9 & CREATOR COMPANION. VRCFURY IS A FREE ADD-ON THAT IS NEEDED TO USE THE SPS OR GOGOLOCO VERSIONS. THERE IS A NON-VRC FURY PACKAGE INCLUDED AS WELL.
---

full tos can be found here: https://illumes.store/terms-of-service
by purchasing ANYTHING from my shop you agree to the terms linked above.
if you have any issues, please check my faq here & then contact me after.