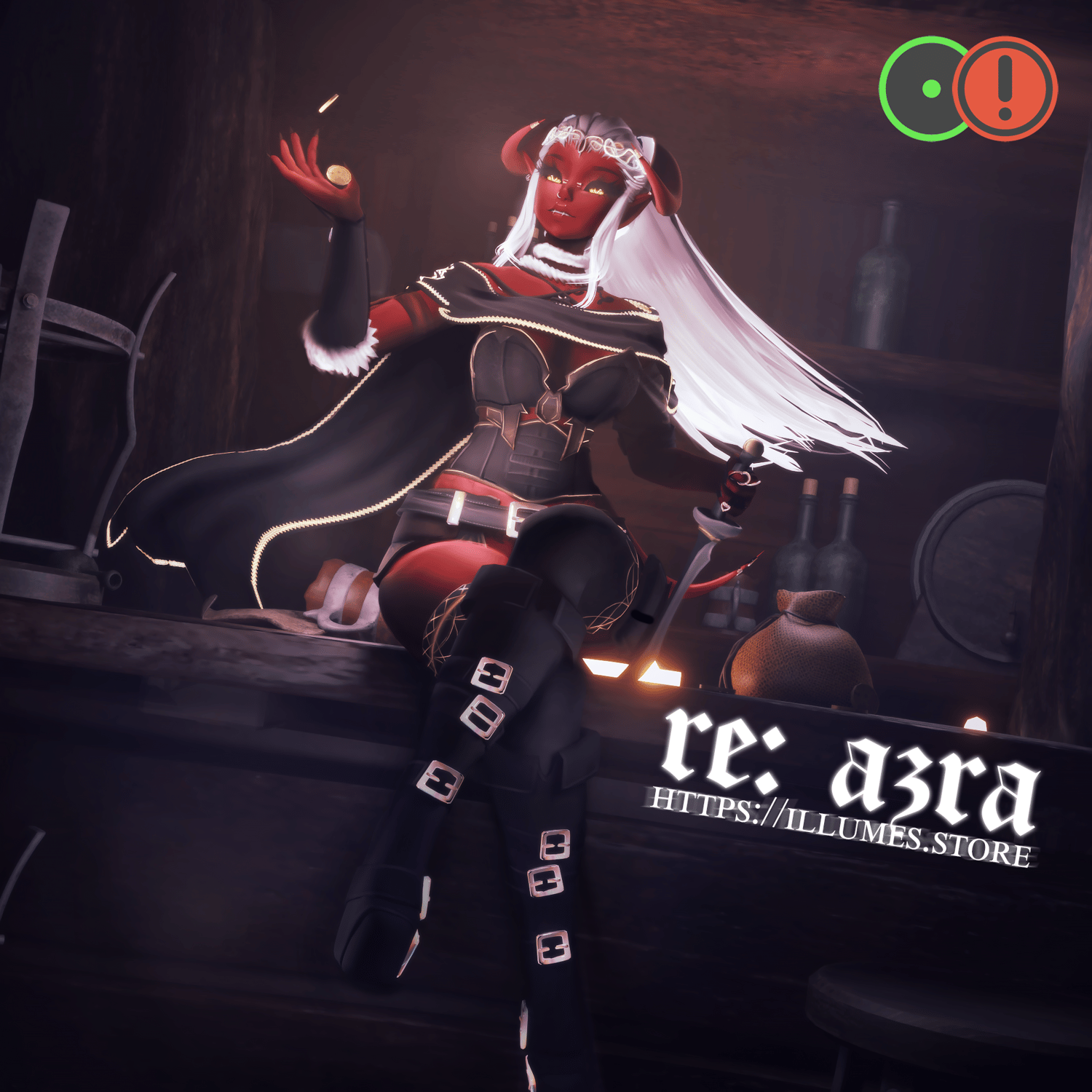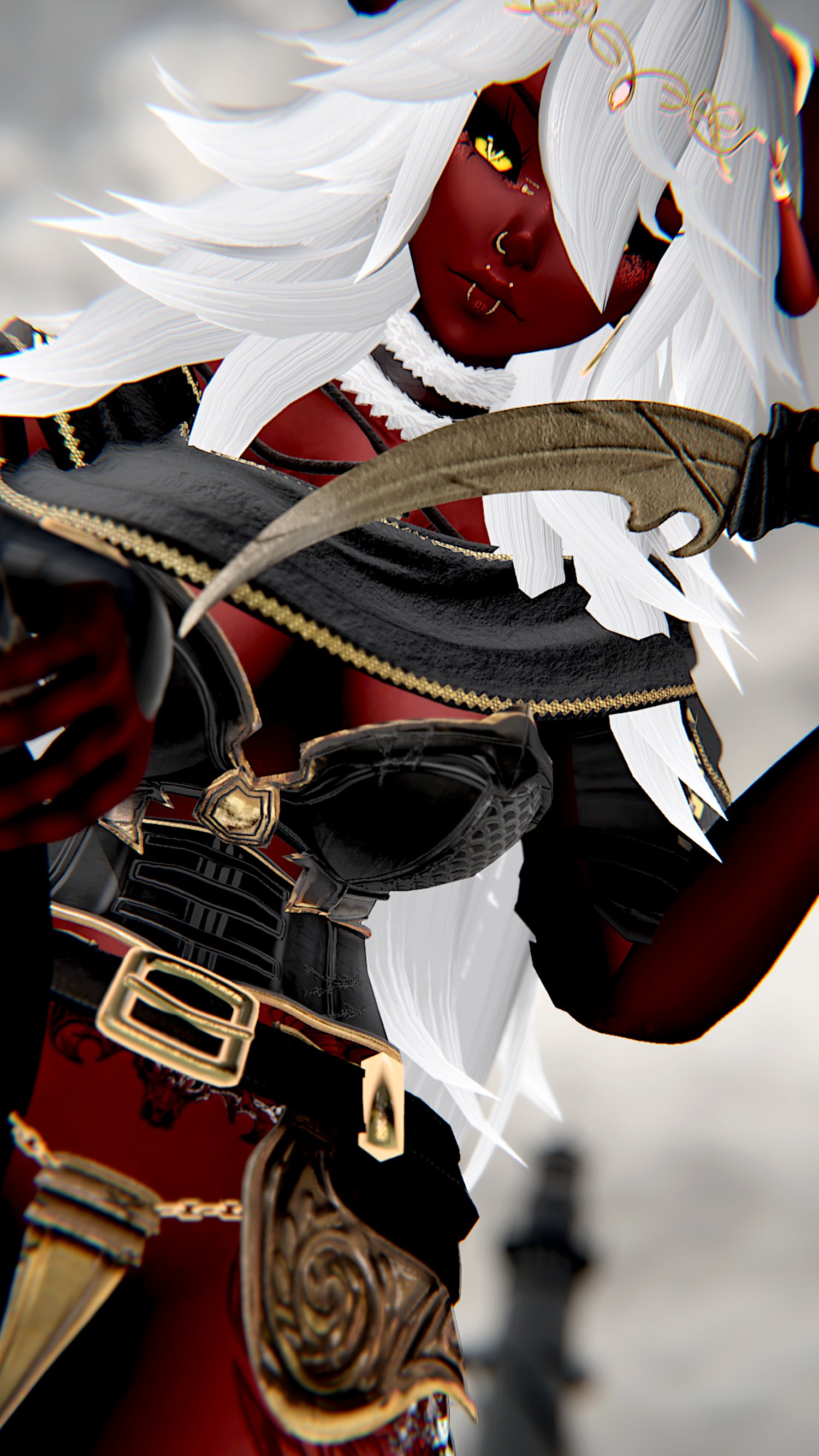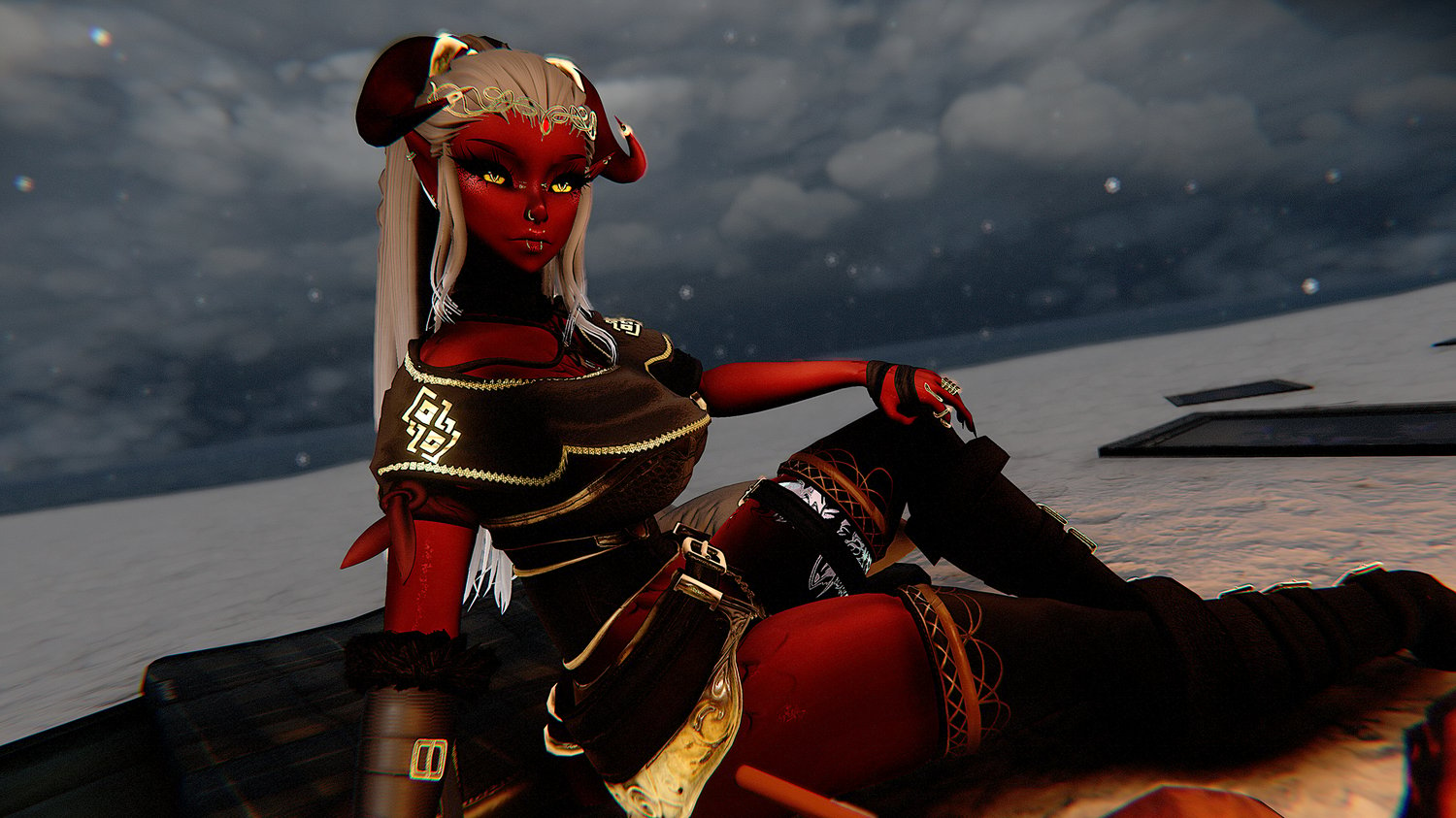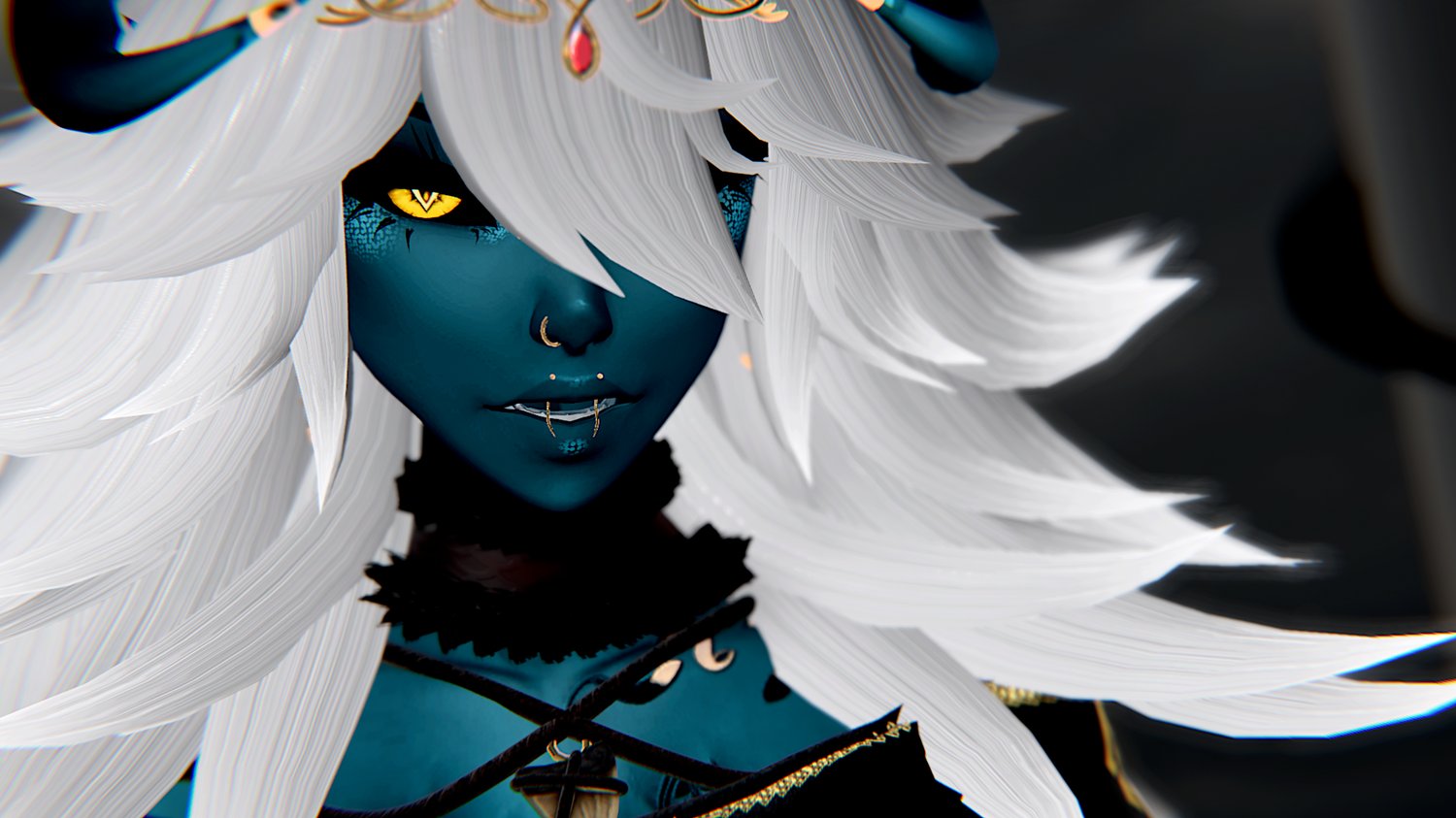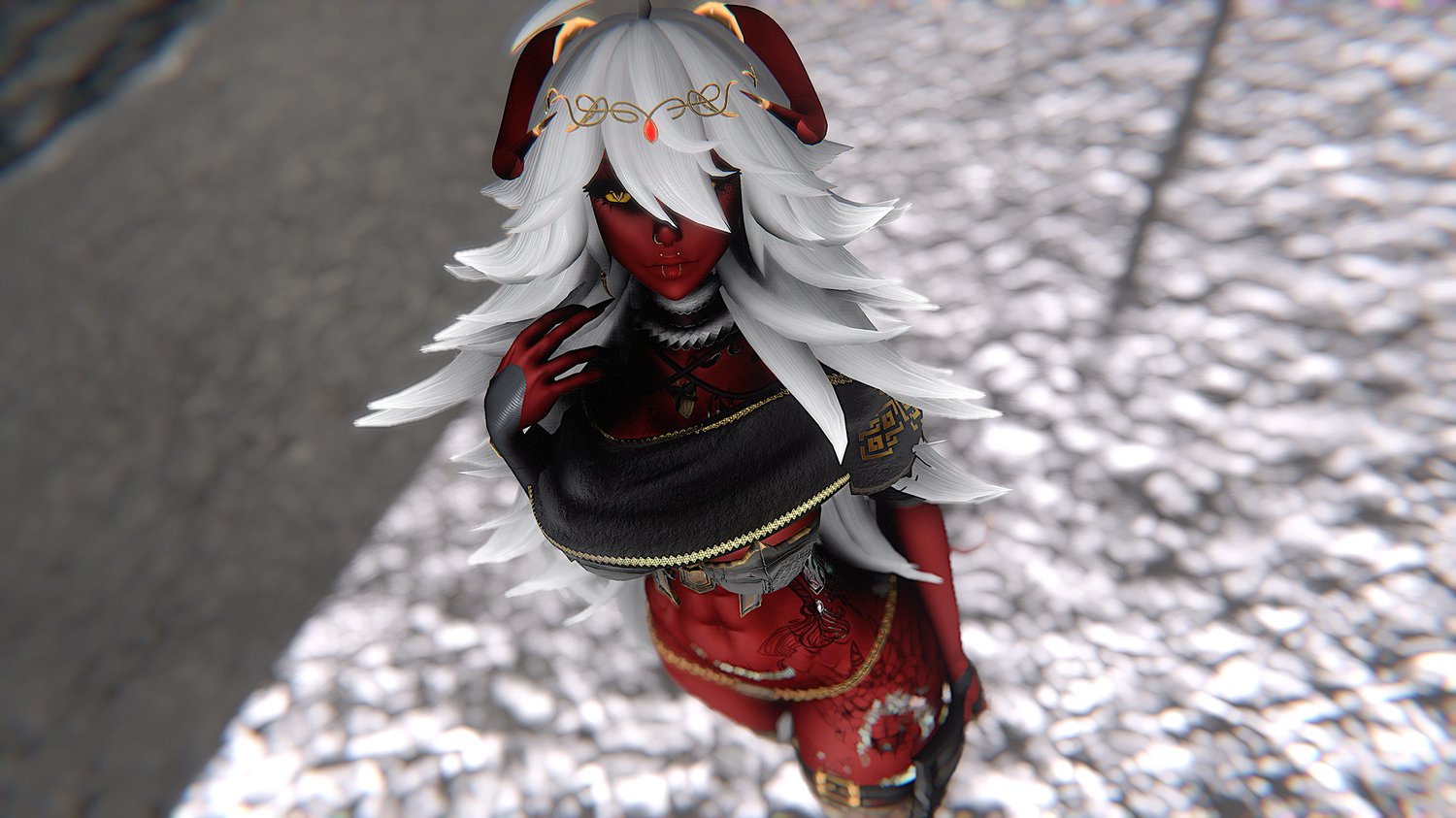 " RE: Azra " 3.0 VR Model
✧ " RE: Azra " 3.0 VR Model ✦
IF YOU PURCHASED THE OG, CHECK YOUR EMAIL OR GUMROAD LIBRARY FOR A DISCOUNT.
---

works great in fbt, fantastic for dancing or relaxing.
customization options for skin hue, butt & chest sizes.
hairswap into a long & fluffy option, control ponytail length, various mat hue mat swaps.
swap fur color from white to black.
toggles for horns, tail, crown, hooves, thigh highs, boots, panties, skirt, corset, bra, cape, necklaces, arm accessories, bag harness.
world drop dagger, spawns in hand & can be dropped on toggle.
feet options change from bare, boots or hooves.
contacts for eye pokes ( eyes close ), boop ( cross eyes, mouth open ) & headpat ( heart particles )
phys bones in both hairs, tail, chest, butt, bag, tooth necklace, arm bandana, cape & earrings.
green " good " optimized version included, has skin hue, hair hue + chest & butt sizes.
---

VERY POOR VER: 48MB DL, 149 Tex Memory, 192k Polys, 18 Meshes, 34 Mats, 19 Phys Components, 228 transforms, 1080 collision
GOOD VER: 11MB DL, 41 MB, 69k polys, 5 mats, 49 transforms, 8 components
---

hair textures: nikkie ( https://nikkiepng.com ), wetcat ( https://wetcat.gumroad.com )
body: zinpia ( https://zinpia.sellfy.store/ )
long hair: Saikura ( https://saikura.gumroad.com/ )
piercings / rings: milkymutt ( https://milkymutt.gumroad.com )
Ryuohh#0001 ( https://ryuohh.gumroad.com/ )
icons: Maddiiee#7341 ( https://maddiiee.gumroad.com/ )
head: nessyy. ( https://payhip.com/nessyvr )
headpat particles: kisustar ( https://kisustar.gumroad.com/ )
world constraint: https://vrlabs.dev
tattoos: smoluni ( https://smoluni.gumroad.com ) + other tattoos drawn by me.
ponytail hair, horns, tail, crown, hooves, thigh highs, boots, panties, skirt, corset, bra, cape, necklace, choker, arm accessories, armor, hand wrap, bag harness, arm wrap, dagger, all by me, illumevr.
toggles using vrc av3 creator by rafa here.
templates by justsleightly.
IN GAME PHOTOS TAKEN BY https://elcaelia.gumroad.com / elcaeliavr on instagram. ( thank you!!!!!!! )
USES POI PRO 8.2+ & CREATOR COMPANION.
---

full tos can be found here: https://illumes.store/terms-of-service
by purchasing ANYTHING from my shop you agree to the terms linked above.
if you have any issues, please check my faq here & then contact me after.