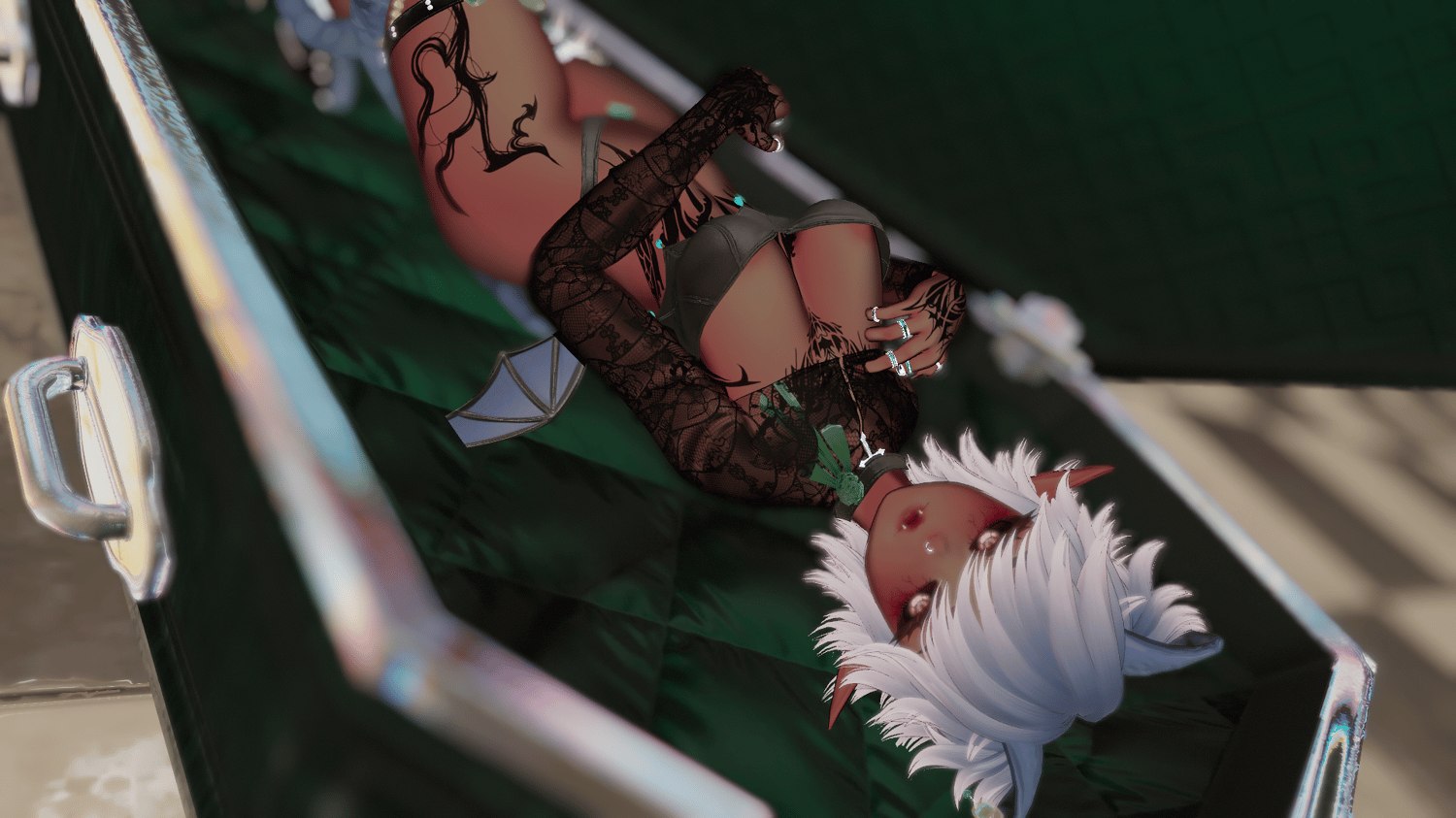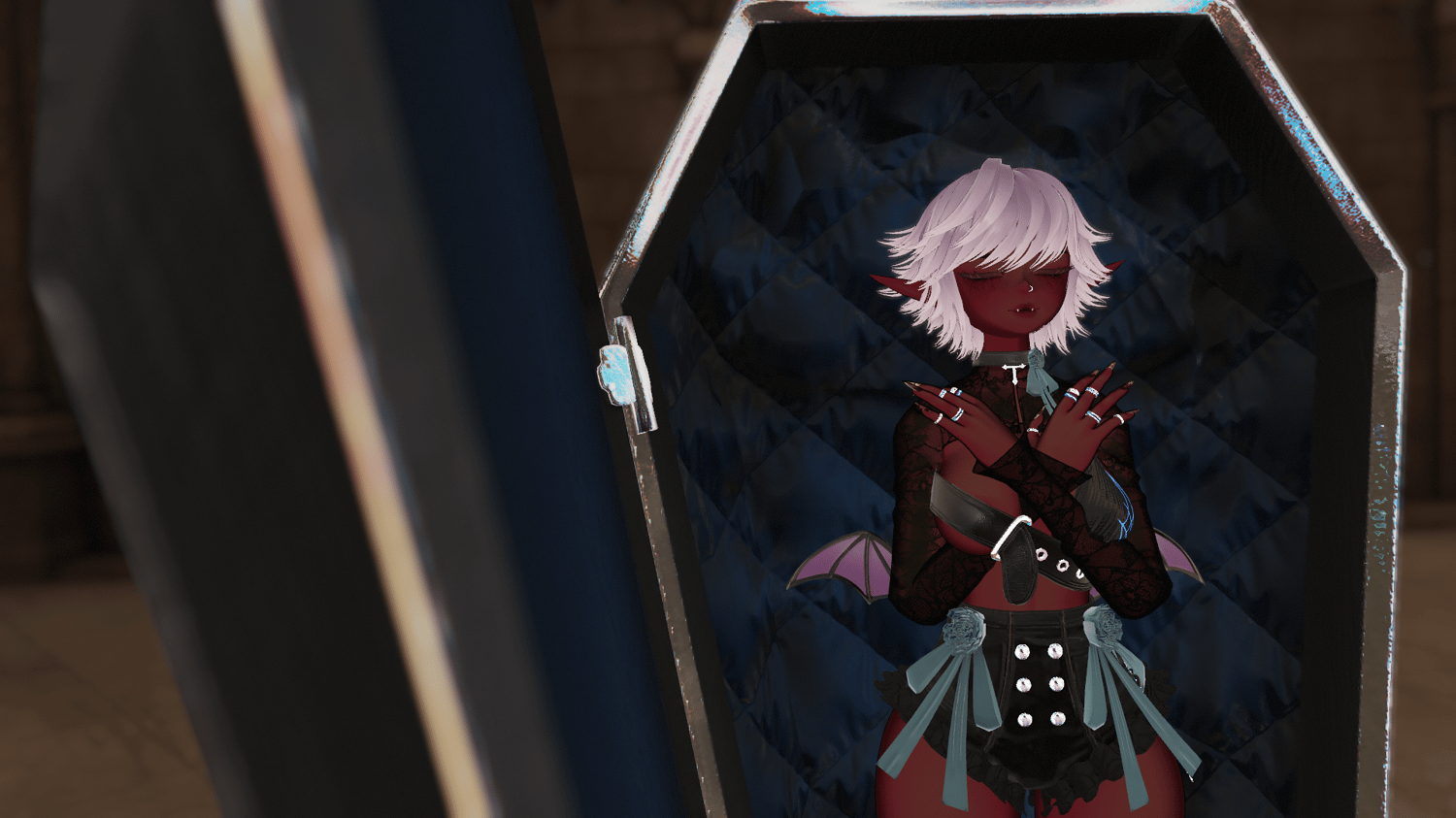 " RE: Camille" 3.0 VR Model + SPS/GOGO
✧ " RE: Camille " 3.0 VR Model ✦
IF YOU PURCHASED THE OG, CHECK YOUR EMAIL OR GUMROAD LIBRARY FOR A DISCOUNT.
---

works great in fbt, fantastic for dancing or relaxing.
full body dissolve with flying bat puppet on left hand.
blood bag with straw that spawns in mouth, it can be grabbed with your right hand + fist gesture.
coffin toggle + toggle to open it or switch position ( horizontal or vertical ), inside hue can be shifted.
hue shifts for ears/tail/hair/wings & shift dress accessories / eyes + edge dissolves.
toggle to turn jacket top from solid to lace.
radial to change stockings from lace / solid & which leg.
radial to change hair from default - ponytail - short hair.
radial to change tail on leg - tail - tail off.
toggle for blood on face, toggle for tvd inspired " thirsty " mode ( red scleras, veins )
toggle for tattoos, skin shift radial.
toggles for heels, boots, bare foot, thigh highs, bloodbags, top jacket, dress, sleeves, belt top, bat top, panties, shorts, chain, choker, jewelry, ears, wings, elf ears.
contacts for headpat ( ears down, wings flutter, eyes close ), boop ( eyes open, mouth open, ears up ), both eyes can be poked ( close )
gogo loco & SPS versions in the VRCFury version of the package!
---

VERY POOR: 58MB DL, 194 Tex Memory, 450k Polys, 24Meshes, 60 Mats, 27 Phys Components, 314 transforms, 600 collision
---

hair textures: nikkie ( https://nikkiepng.com ), wetcat ( https://wetcat.gumroad.com/ )
head: cicieaaa ( https://cicieaaavr.gumroad.com/l/cicis3 )
eye tex: kri ( https://krinuts.sellfy.store/ )
body: zinpia ( https://zinpia.sellfy.store/ )
base body & head tex: yingyangvr ( https://yingyangvr.gumroad.com )
boots: Miriaaam ( https://miriaaamvr.gumroad.com/l/cymmtj )
icons: Maddiiee#7341 ( https://maddiiee.gumroad.com/ )
blood: sivka ( https://23mink.gumroad.com/ )
tongue: eggly69 ( https://payhip.com/Eggly69 )
world constraint: ( https://vrlabs.dev )
all three hairs, bat accessories, top jacket, dress, bat top, belt bra, panties, heels, thigh highs, sleeves, bat mesh, wings, tails, ears, blood bag, coffin, choker, jewelry, tattoos, nail art were all made by me, illumevr.
toggles using vrc av3 creator by rafa here.
templates by justsleightly.
USED POI PRO 9 & CREATOR COMPANION. VRCFURY IS A FREE ADD-ON THAT IS NEEDED TO USE THE SPS OR GOGOLOCO VERSIONS. THERE IS A NON-VRC FURY PACKAGE INCLUDED AS WELL.
---

full tos can be found here: https://illumes.store/terms-of-service
by purchasing ANYTHING from my shop you agree to the terms linked above.
if you have any issues, please check my faq here & then contact me after.