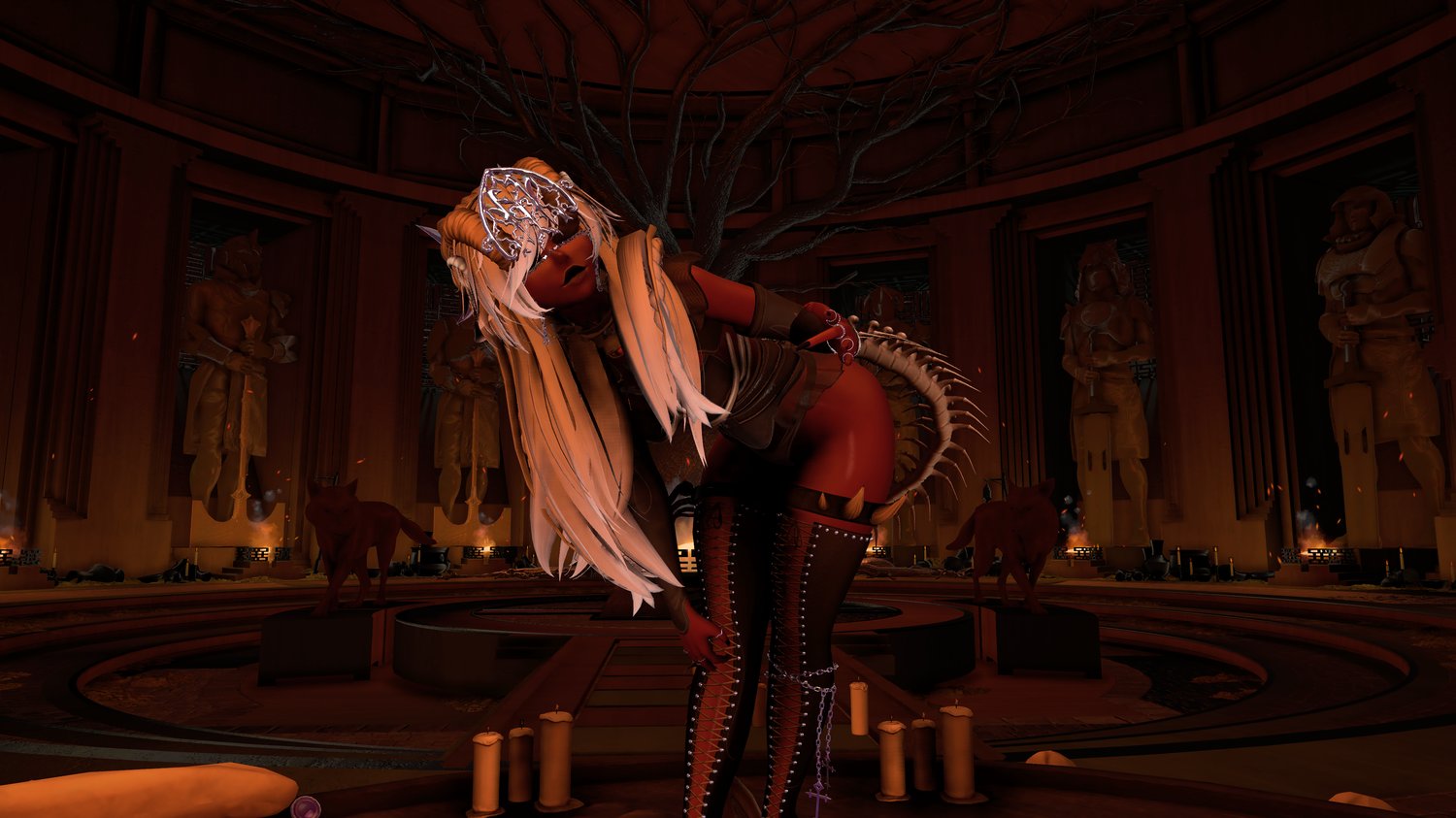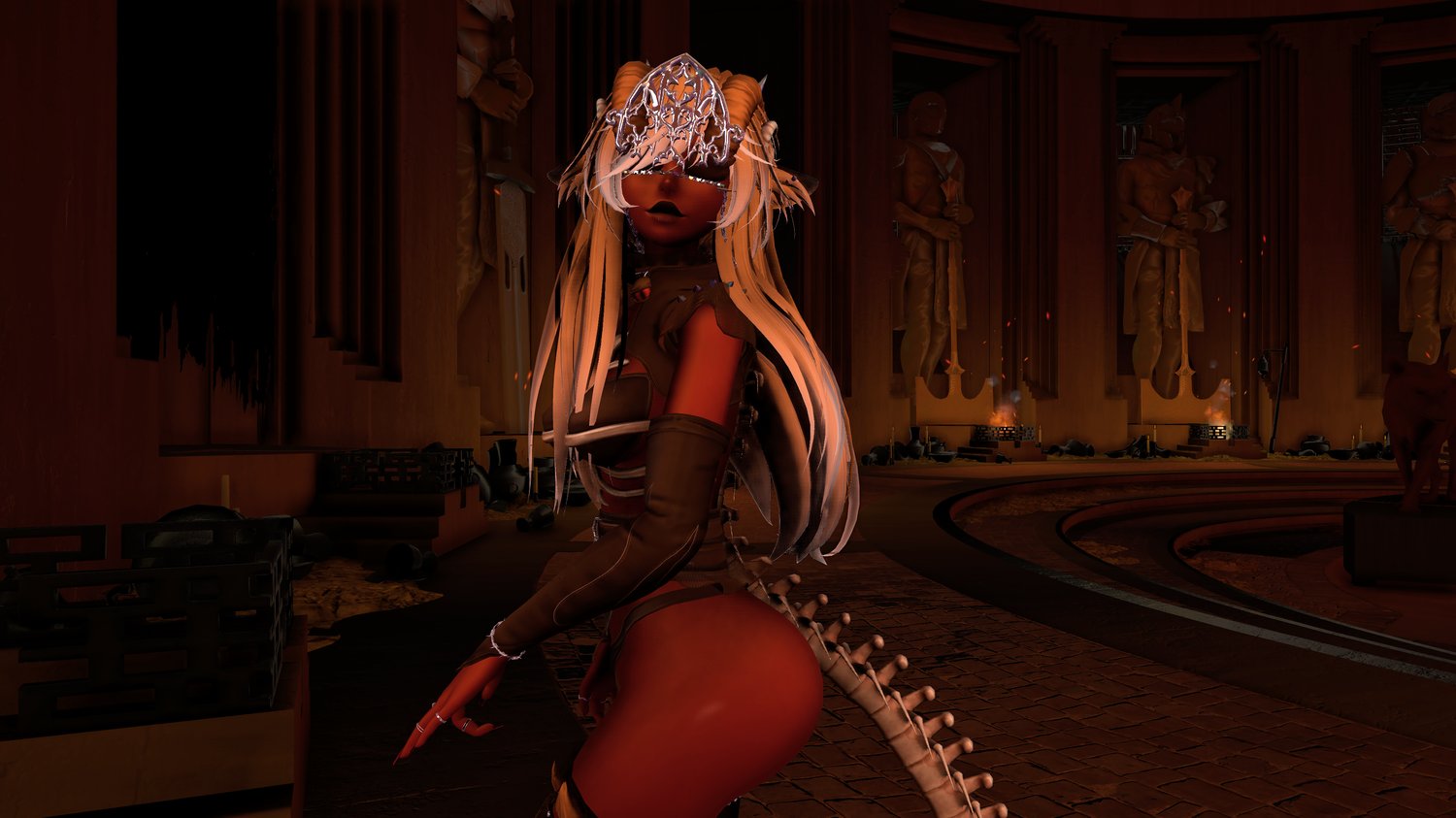 " The Devil " Major Arcana VR Avatar + TPS & OPTI
---
works great in fbt! for dancing or relaxing.
preset outfits: default, alt outfit, panties / pasties, none.
toggles for eye choker, heart choker, window, ears, face chain, horns, top, corset, panties, arm sleeves, arm warmers, garters ( whip toggles off with it ), gag, jacket, bone tail, goat tail.
skin radial for different tones, option for corrupted toggle.
hair radial for six different colors.
three hair options, default long, short or both.
three options for feet, bare, thigh highs & goat hooves.
boob & butt radial to make it bigger / smaller.
option to turn nails from square to claws.
float animation on window & idle eye animation on choker.
world drop stage, touch the book with your right hand to spawn the pole.
whip can be grabbed off leg by using right fist with gestures on, goes back to leg when let go of after a short delay. whip will toggle off with garter toggle.
contacts for headpat ( smile, ears wiggle ), tail grab ( angry ) & both eyes close when poked with fingers.
green optimized version, tps / dps ( with pp ), tps version ( w/o pp ) & default with no lights versions included.
green version still has butt / boob size radial, nail toggle, hair radial & skin shift radial.
---
red --- very poor
➜ 63 / 59 MB DL / 169 / 157 MB texture memory
➜ 410k / 380k
➜ 30 / 28 meshes
➜ 55 / 53 mats
➜ 19 physbone components
➜ 229 transforms
➜ 337 collision
most stats dependent on version.
green --- good
➜ 24 MB DL / 67 MB texture memory
➜ 69k polys
➜ 1 meshes
➜ 7 mats
➜ 4 physbone components
➜ 9 transforms
---
heart choker: lexxxya#9752 ( https://lexxxya.gumroad.com/ )
alt outfit: jorgen ( https://jorgenvrc.gumroad.com/ )
head: ducc#3210 ( https://payhip.com/DUCC )
body: sugs#9795 ( https://zinpia.sellfy.store/ )
rings: TheIceDragonz#9360 ( https://theicedragonz.gumroad.com/)
pp: scarlettkat ( https://scarlettkat.gumroad.com/)
bone tail: nippnipp ( https://nippnipp.gumroad.com/ )
short hair: nessyy. ( https://payhip.com/nessyvr)
whip, tongue: mommy_dae ( https://daeris.gumroad.com/)
icons: Maddiiee#7341 ( https://maddiiee.gumroad.com/ )
hairtex, shoes: wetcat ( https://wetcat.gumroad.com/)
long hair, piercings, window, eye choker, horns, face chain, goat tail, goat hooves, corset, bra, bones, panties, pasties, jacket, garter, goat ears, gag, pole & stage were all made by me, illumevr ( https://illumes.store )
toggles using vrc av3 creator by rafa here.templates by justsleightly.
photos by blazeytaco & foxautumn.
---

full tos can be found here: https://illumes.store/terms-of-service
by purchasing ANYTHING from my shop you agree to the terms linked above.
if you have any issues, please check my faq here & then contact me after.